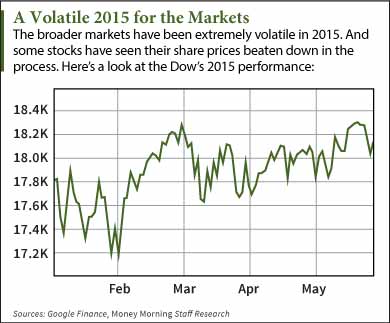 Finding the best cheap stocks to buy now makes the difference between just seeing a gain and doubling or tripling your return.
That's why it's always good to look for strong companies that have seen their share prices dip. Then investors can buy undervalued stocks and collect profits as the stocks rebound.
And now's a great time to look. The Dow and S&P 500 have been volatile in 2015. Some share prices have been hit too hard.
So we found three cheap stocks that have seen their share prices fall too far and are ready for a rebound.
Cheap Stocks to Buy Now No. 1: Ford Motor Co. (NYSE: F)
The first stock on this list is Ford Motor Co. (NYSE: F). Since March 3, F stock has dipped 7.7%, giving us a great entry point now.
Sales have been strong for Ford in 2015. Between January and April, Ford sold 5.41 million light vehicles. In 2014, it sold just 5.13 million during that span. Auto information company TrueCar expects Ford to sell 17 million cars this year.
But vehicle sales aren't the only thing driving Ford stock. Low oil prices will also push the Ford share price higher.
Oil trades below $60 per barrel now, after crashing in 2014. That means consumers are paying less at the pump. Ford officials attributed a strong first quarter in part to low gas prices, with CEO Mark Fields saying "improving consumer sentiment" and "lower fuel prices" will continue to help the company grow.
According to Money Morning's Executive Editor Bill Patalon, the booming U.S. economy will also be a catalyst for Ford stock. The U.S. economy is expected to grow at a 3% pace or better in 2015. And that's after the Dow Jones Industrial Average gained 8.3% in 2014.
"Wages are rising, giving U.S. families more buying power," Patalon explained. "And falling food and energy prices - coupled with the lowest household debt-to-income ratio since 2002 - give households more to spend."
Money Morning Defense & Tech Specialist Michael A. Robinson points to the recent tech advances as a major buying point for consumers too.
"With cars more than a year or two old, we're talking no backup cameras, no collision-avoidance sensors, Bluetooth, or integrated GPS," Robinson said. "That becomes an additional incentive to buy a new car or truck."
Ford stock opened today at $15.23 - making it still in "cheap stock" territory. Over the next five years, earnings are expected to grow by 17.3%. Analysts' one-year price target for F is $17.13 - 12% higher than where it trades now.
Continue reading for two more cheap stocks to buy now...