The outlook for First Solar Inc. (Nasdaq: FSLR) stock is not as dark as these analysts think…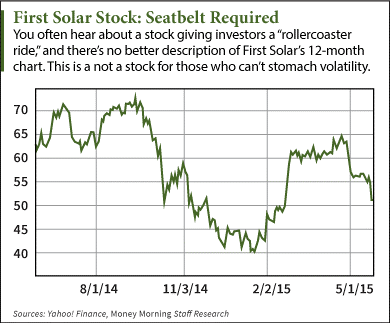 FSLR stock took a 7.28% hit Tuesday after a brutal downgrade by RBC Capital Markets. FSLR shares closed at $51.06, down $4.01 on the day.
RBC analyst Mahesh Sanganeria warned that Tempe, Ariz.-based First Solar would not meet its revenue and profit targets this year and next. And he whacked his 12-month price target from $54 to $34.
That's a far cry from the consensus one-year target for FSLR stock of $62.77.
We think Sanganeria's take is overly negative. But let's look at why he's so down on First Solar stock.
What's Behind the FSLR Stock Downgrade
Mainly, the problem lies with First Solar technology.
You see, the panels that First Solar makes use cadmium telluride rather than the crystalline silicon used by most of its rivals. That makes First Solar's panels cheaper, but also less efficient at converting the sun's energy into electricity.
Sanganeria believes that falling prices for silicon panels represent a major threat to First Solar's business.
"First Solar may lose its cost advantage for the whole system compared to competitors using multi-crystalline silicon technology," Sanganeria wrote.
He also voiced concern over First Solar's reliance on utility-scale projects, which have preferred First Solar's cheaper panels.
And then there's the company's Q1 earnings report released at the end of April. The loss of $0.62 per share badly missed estimates for a loss of just $0.18. Revenue of $469.21 million was short of the company's own forecast for sales of $550 million to $650 million.
That news dropped FSLR stock by 3.8%.
In fact, First Solar stock is down 21% since that earnings report. For FSLR investors, it's been a crazy nine months, with the stock going as high as $73.78 in September and as low as $39.18 in January.
But while it's true the solar industry is more unpredictable and volatile than most, First Solar is not the basket case that Sanganeria described in his note…
Why FSLR Stock Is a Bargain Right Now
Let's start with First Solar's panel technology and its prospects.