Canada's energy industry may be most famous for its world-class oil sands resources. But a new shale oil field could surpass the oil sands as Canada's largest untapped oil reserve.
In fact, it could even rival the massive Bakken shale of North Dakota in terms of recoverable oil.
This area lies north of British Columbia and east of the Yukon. It's the Northwest Territories.
Recent data from the National Energy Board (NEB) and the Northwest Territories Geological Survey shows that this area holds as much as 200 billion barrels of shale oil reserves. That compares to U.S. Geological Survey estimates that the Bakken shale formation will yield up to 7.4 billion barrels.
Not all of this Canadian oil is necessarily recoverable. But the Canol and Bluefish shales contain a total approaching 7 billion barrels of economically viable resources.
Here's a look at the vast potential of Canada's Northwest Territories…
A New Shale Oil Field with "Significant Potential"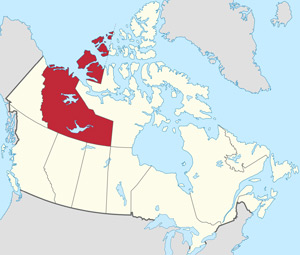 Major oil companies have been exploring this area just 145 kilometers south of the Arctic Circle, known as the Mackenzie Plain, for some time.
Oil producers such as Husky Energy Inc. (TSE: HSE), Imperial Oil Ltd. (TSE: IMO), Royal Dutch Shell Plc. (NYSE ADR: RDS.A), and ConocoPhillips (NYSE: COP) have performed exploratory drilling in the Canol field.
A total of 14 exploration licenses have been granted with $628 million in work commitments dating back to 2010.
The Canol Field could hold as much as 145 billion barrels of oil. That's comparable to Texas' Permian basin, where about 3% of oil in place is currently being recovered by operators.
The Bluefish shale has yet to even be explored. It could hold up to 46 billion barrels.
David Ramsay, Minister of Industry, Tourism and Investment for the Government of the Northwest Territories, commented on the NEB data, saying, "This study confirms what we have known all along – that there is significant petroleum potential in the Sahtu."
Developing these fields could be a ways off, however. Some living in the territory as well as Greenpeace oppose fracking, claiming it could contaminate groundwater.
Perhaps an even larger obstacle to development is infrastructure. The area's remote location currently lacks such basic services as an all-weather road. A pipeline system to carry the recovered oil and gas to market will also need to be built eventually.
So now the big question: Can investors profit from this new Canadian shale oil field? 
Join the conversation. Click here to jump to comments…
About the Author
Peter Krauth is the Resource Specialist for Money Map Press and has contributed some of the most popular and highly regarded investing articles on Money Morning. Peter is headquartered in resource-rich Canada, but he travels around the world to dig up the very best profit opportunity, whether it's in gold, silver, oil, coal, or even potash.