In baseball and football, making the cover of Sports Illustrated is the Holy Grail recognition achievement.
In modeling, it's the cover of Vogue.
And in the world of innovation, making the cover of Popular Science gives you top bragging rights. And we've found a company that just has...
The Fastest Jet Ever Designed for Speed and Profit
Aerospace giant Lockheed Martin (NYSE: LMT) - operator of the famed "Skunk Works" unit that developed such "black project" winners as the supersonic SR-71 Blackbird, the high-flying U-2 reconnaissance aircraft, and the enemy airspace-penetrating F-117 Nighthawk - scored the latest Pop Science cover with the new spy plane the company is proposing for the U.S. Air Force.
The story - "America's Secret Spyplane: Inside the Fastest Strike Jet Ever Designed" - graces the cover of the magazine's June issue. The report focuses on an aircraft that Lockheed is referring to as the SR-72 - and that some writers have referred to as "Son of Blackbird" for its similarities to the now-retired SR-71.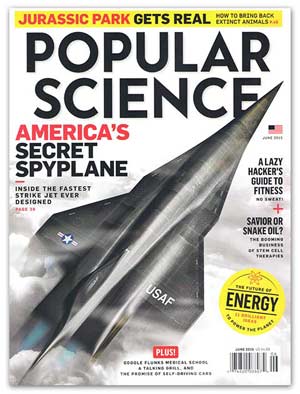 We told our Private Briefing readers about this new spy plane in our Nov. 18, 2013, in our report," Look Who's Building America's Next Spyplane." We chose to focus on the jet because one of the partners in the development program is Aerojet Rocketdyne Holdings Inc. (NYSE: AJRD), a company whose stock we recommended at $11.40 a share back in February 2013, when it was still known as GenCorp Inc.
We said the shares would double, and that's just what they did: Shares of the maker of engines for rockets and missiles ran up more than 100% to peak at $24.99 a share.
But we continue to like the stock - a point we made in the April report "Missiles of October, Missiles of Pyongyang - and the One Stock to Buy."
The fact that Popular Science saw fit to make this spy plane its cover story underscores the project's importance.
That's why I wanted to give you an update today.
Let's start with a bit of historical context.
Blackbird, Fly
One of the reasons the "Son of Blackbird" is getting so much attention - aside from its stunning expected performance - is the stunning record of its predecessor, the SR-71.
From the time it became operational in 1964 until it was retired in 1989 (and then retired again in 1998), the SR-71 Blackbird spy plane was unparalleled it its ability to fly fast, fly high, and literally outrun the missiles enemy defenders fired to bring it down.
In fact, during its entire operational career - 3,551 mission sorties totaling 11,000 hours (including 2,750 mission hours being flown at Mach 3) - no Blackbird was ever felled by enemy fire.
That's no surprise, of course: You can't hit what you can't catch.
The needle-nosed black jet cruised easily at Mach 3.2 and flew its missions at 85,000 feet - right at the edge of outer space. That extreme performance, and the spy plane's 2,900-mile mission range, meant the Blackbird could "overfly" potential "hot spots" in North Korea and Vietnam - or even a nuclear test site deep inside China - and bring back "the goods" that U.S. military decision-makers desperately needed in order to act.
Spy satellites, for all their benefits, lacked the flexibility of a supersonic spy plane.
Jets, you see, can be directed to a specific target at a desired point in time - while satellites are shackled to their orbiting tracks. In fact, in cases where the president or military decision-makers need to look at a specific target, it can take as long as 24 hours before a satellite can be in the proper orbit - much longer than it takes to plan and launch a spy-plane mission. And because the overflights of satellites can be predicted, a targeted enemy can camouflage or in some other manner hide the assets our military leaders want to see.
These shortcomings quickly became apparent when Congress forced the Blackbird's first retirement in 1989. Just four months later, with Operation Desert Storm swirling, U.S. Gen. "Stormin' Norman" Schwarzkopf Jr. was told that the expedited reconnaissance the Blackbird could have given him was no longer available.
In part because of that lesson - and several others like it - several SR-71s were brought out of retirement in 1993. But the program was killed for good in 1998, leaving a gap in America's strategic reconnaissance capabilities that new drone-type aircraft are just beginning to fill.
With that, Congress notched an achievement that had forever eluded our enemies.
Join the conversation. Click here to jump to comments…
About the Author
Before he moved into the investment-research business in 2005, William (Bill) Patalon III spent 22 years as an award-winning financial reporter, columnist, and editor. Today he is the Executive Editor and Senior Research Analyst for Money Morning at Money Map Press.