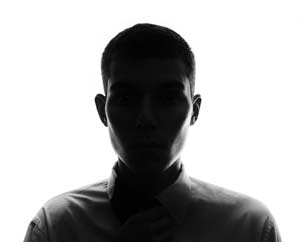 No one knows his real name. He's a conspiracy theorist who goes by Reinhardt, his old Google Group message board handle. And he made headlines six years ago for accurately predicting the 2008 stock market crash... down to the day.
The 2008 stock market crash first started with irresponsible financiers who doled out loans to "subprime" borrowers with poor credit histories. They knew the borrowers would struggle to repay them. Meanwhile, the risky mortgages were being passed on by the financiers to the big banks, which then spun them into allegedly low-risk securities. Investors bought the securities up.
According to The Economist, "Failures in finance were at the heart of the crash. But bankers were not the only people to blame. Central bankers and other regulators bear responsibility too, for mishandling the crisis, for failing to keep economic imbalances in check and for failing to exercise proper oversight of financial institutions."
While these are the events that lead to full-blown economic disaster, the mid-September 2008 bankruptcy of global bank Lehman Brothers was the harbinger of the Great Recession's arrival.
One lone Internet user - Reinhardt - saw it coming. And he issued a warning. Unfortunately, his prediction went unnoticed.
Here are the events that led Reinhardt to make his astonishing forecast.
All Roads Lead to Rome - and Then a Stock Market Crash
The media blames big banks for the 2008 stock market crash. But Reinhardt pinned the crash on Legatus, a Catholic networking group formed in 2007 by powerful businessmen.
"[Legatus] are the richest and the most influential. While they advertise for open membership, they have closed-door meetings. They've been compared to Opus Dei," Michael Stone, a subscriber to the same Internet finance message board as Reinhardt, explained to former Minnesota governor Jessie Ventura in a truTV interview on Nov. 5, 2010.
Reinhardt believed members of Opus Dei and Legatus made pilgrimages to the Vatican in Rome right before the stock market crashes they're respectively tied to:
Reinhardt also claimed the organizations made these "pilgrimages" regularly, with the true intention of laundering large amounts of money by means of massive checks made to the church.
Later, these checks would conspicuously clear all at once on a single day.
In July 2008, Reinhardt declared in a Google Finance Group that members of Legatus had just made a pilgrimage to Rome. He saw the trip as a catalyst, and predicted that the U.S. stock market would crash Sept. 15, 2008.
Reinhardt derived the date by examining two major pilgrimages that took place in the past - one preceding the crash of 1928, the other before the crash of 1987.
He also referred to an incident with Tyco International Ltd.'s Chief Legal Officer Mark Belnick, who was accused of securities fraud in 2002. Belnick received at least $12 million in low-to-no interest loans, without shareholder approval. These funds were smuggled out of the company, usually disguised as executive bonuses or benefits.
According to Wall Street Journal reporter Laurie Cohen, during this time Belnick also converted to Catholicism, met the Pope and other Vatican members of Opus Dei, and donated several million to Catholic charities.
Cohen says Belnick was particularly close to a Father McCloskey, a known active Opus Dei member who many believe helped orchestrate Tyco's downfall using Belnick as a channel. In early 2002, Tyco stock fell almost 80% in a six-week period of time. Belnick was sentenced to 25 years in jail, then was later acquitted.
Still today, Father McCloskey continues to "guide people to the church."
Here is Reinhardt's original prediction of a Sept. 15, 2008 stock market crash, the first archived by Gawker on Sept. 15, 2008; the second archived by abovetopsecret.com on the same date: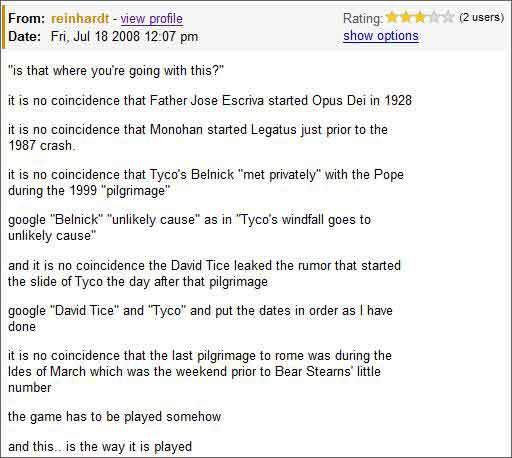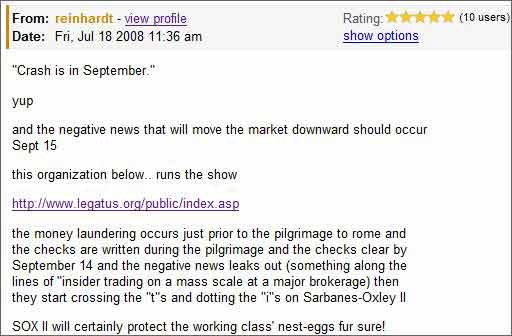 And crash it did.
Monday, Sept. 15, 2008, was the day Lehman Bros. failed. We know that for sure. The Dow Jones Industrial Average dropped 504 points, or 4.4%, that day. The slip triggered what would culminate in a 35% crash over six months ending mid-March 2009.
You see, the same day, billions of dollars were taken from money market accounts around the nation in one massive outflow, accelerating the crash. Several money market accounts were heavily invested in - you guessed it - Lehman Bros.
That accounts for a portion of the outflow at least, but not billions worth. There are two versions of what accounts for the rest - one told to the public, and one according to Reinhardt...
What Caused the Massive Outflow-Turned-Stock Market Crash?
Reason Behind Disappearing Funds - the Version Told to the Public: It marked the first day of a slow and steady draw-down of money market accounts. Under this theory, $550 billion was not yanked away from money markets on Sept. 15, 2008 alone. Rather, the money poured out over the course of a few days, due to Lehman Bros. going belly up.
In response to the money outflow from the Reserve Primary Fund, a giant money market fund that had heavy investments tied to Lehman Bros., New York Times reporter Tara Siegel Bernard said, "So far, it appears that no other money market funds have fallen below a dollar a share. And other money market managers have hastened to reassure investors that their money is safe. But the Primary Fund's announcement did raise this question: What, in today's world, is truly safe?"
Felix Salmon of Upstart Business Journal explained the phenomenon this way: "On September 15, Lehman Brothers failed. The Reserve fund - which was $64 billion that morning, and which had a substantial investment in Lehman debt - saw $10 billion of withdrawals that day. The following day, Sept. 16, it saw another $10 billion of withdrawals; on Sept. 17, when withdrawals had reached a total of about $40 billion, it announced that redemptions would take 'as long as seven days'; as we all know, that was massively overoptimistic."
This seems a logical scenario behind the massive money outflow on Sept. 15.
But another plausible theory exists...
Reason Behind Disappearing Funds - Reinhardt's Theory: A mysterious person or organization stole the money out from under our noses: In a video clip that went viral on Feb. 6, 2009, Capital Markets Subcommittee Chair Rep. Paul Kanjorski (D-PA) told C-SPAN that on Sept. 15, 2008, there had been "a tremendous draw-down of money market accounts in the U.S., to the tune of $550 billion." [Note that the video clip has since been removed from the Internet, but is still written about extensively.]
Kajorski explained the public couldn't know about it; making such an announcement would surely would have incited instantaneous mass panic. So it was kept a secret. Kajorski also said while the Treasury tried to help salvage the massive damage done on that day by putting up $150 billion of its own reserve, it still wasn't enough.
It was this devastating "run on the banks" that sank the U.S. economy - coordinated by Legatus, according to Reinhardt.
However, the stock market crash could have been worse, apparently. Kajorski told C-SPAN that "had they not closed down the accounts, they estimated that by 2:00 PM that afternoon - within 3 hours - five trillion dollars would have been drawn out of the money market system of the United States and would have collapsed within 24 hours the world economy."
Reinhardt - if you're out there - let us know when Legatus makes their next move...
And Then I Said... "Pay taxes? What Am I - Poor?!" This year, the IRS collected roughly $1.4 trillion from U.S. taxpayers on April 15. Even individuals exempt from the federal income tax are subject to payroll taxes - and even the 14% exempt from both still must pay a sales tax. But there are 11 S&P 500 Index giants that pay no taxes. None. Nada. In fact, most of them got refunds. Here they are all are, on one conveniently organized chart...
Related Articles: