By the end of June, more than 7.5 million Americans could see their Obamacare premiums skyrocket.
That's when the Supreme Court is expected to rule on King v. Burwell. It's an Obamacare ruling that asserts that Affordable Care Act (ACA) subsidies only apply to citizens who purchased their insurance over a state-run exchange.
You see, many states do not offer state-run exchanges. More than 20 states - including Texas and Florida - boycotted the exchanges. Individuals in those states had to rely on federal exchanges.
King v. Burwell wants to invalidate those subsidies.
Here are the top 10 states that could see the most people impacted by this decision: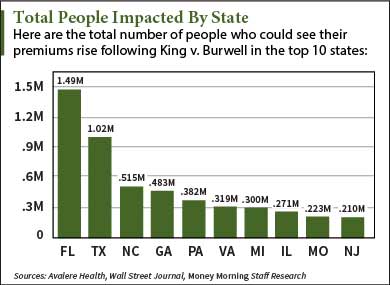 And those people who lose their subsidies will see their premiums skyrocket.
That's why Money Morning's Chief Investment Strategist Keith Fitz-Gerald has termed the decision the Obamacare "nightmare" event.
If it's determined the subsidies don't apply, millions of healthy Americans will forego insurance entirely.
"Capitalism being what it is, those same higher prices will, in turn, drive out larger numbers of healthy people, until only the sickest, oldest Americans are left," Fitz-Gerald said. "When you hear the words, 'death spiral' and 'health insurance' in the same sentence, this is what they're talking about."
"It's the nightmare scenario, and it's only held off so far because the incentives and penalties have forced millions of healthy people to join the exchanges and help pull down costs."
Here's a look at the top 10 states where the average person impacted will see their premiums rise the most: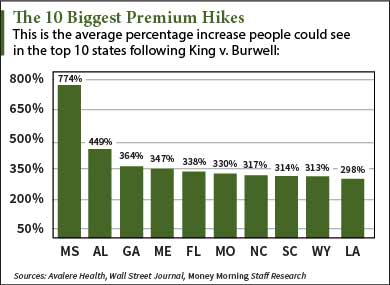 But you don't have to panic from this nightmare scenario. In fact, there's a way you can still profit from it...
How to Profit from the Obamacare Ruling
The Obamacare ruling won't just impact individuals.
[epom key="ddec3ef33420ef7c9964a4695c349764" redirect="" sourceid="" imported="false"]
Before Obamacare, hospitals provided $41 billion in uncompensated care from their emergency rooms. But now that millions of new Americans are receiving subsidized insurance, these hospitals are shelling out much less money.
Insurance companies have benefitted too from the flood of new customers.
If the nightmare scenario comes to fruition, we could see a major slump in healthcare stocks. And that would create what Fitz-Gerald describes as a "legendary buying opportunity."
While researching this scenario for his Total Wealth research service readers, Fitz-Gerald actually found three profit opportunities. These healthcare stocks should fall if the Supreme Court rules against the subsidies and will provide investors a great opportunity to enter a lowball order...
Follow me on Twitter: @KyleAndersonMM
Double Your Money on the World's Most Valuable Company: Money Morning's Tom Gentile has found one small move that can help you make a 100% profit on a popular stock, all within the next 27 days. Here's how you can find out the step-by-step process to doubling your money...