One of our favorite biotech stocks, Inovio Pharmaceuticals Inc. (Nasdaq: INO), has seen a steep fall lately. Inovio stock is down 20.5% since it reached a 2015 high of $10.77 on April 22.
Even with this recent slip, INO is still one of our biggest triple-digit winners. Inovio stock is up 241% since Money Morning's Executive Editor Bill Patalon first recommended it to his readers in February 2013.
A 20% drop can send investors running for the exits. But now is not the time to panic and sell. Inovio stock remains a long-term stock to buy.
Here's why.
What's Going On with Inovio Stock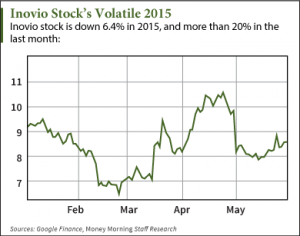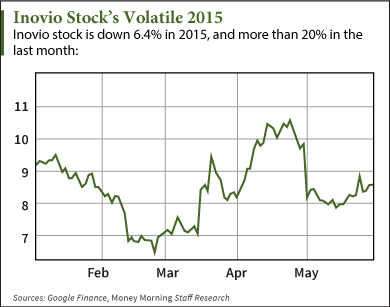 Inovio is a clinical-stage biopharmaceutical company that develops cancer immunotherapies and vaccines for infectious diseases. While cancer is the company's primary focus, it's also developing treatments for hepatitis C, hepatitis B, HIV, malaria, and Ebola.
The company is at the forefront of "synthetic" vaccine technology. Most vaccines we use today were developed decades ago. Synthetic vaccines are easier to engineer, and they use no chemicals, no additives, and no preservatives.
The firm has some big-name partners. Bill and Melinda Gates' anti-malaria foundation has donated millions to Inovio's malaria efforts in recent years. In April 2015, the Defense Advanced Research Projects Agency (DARPA) awarded Inovio a $45 million grant for its Ebola research. It also won two grants from the National Institutes of Health in 2015 that totaled $28 million.
These are good signs for Inovio's future. But there are a couple reasons for INO's recent pullback...
One reason for the decline in Inovio stock was the company's Q1 earnings report.
In the first quarter, INO generated $5.17 million in revenue. While that was 119% higher than the previous year, investors were disappointed because Wall Street had predicted revenue of $7 million.
Earnings per share (EPS) also missed expectations. The company reported a loss of $0.17 per share, when Wall Street had expected a miss of just $0.11 per share.
This was the second straight quarter that INO stock missed EPS estimates. In Q4 2014, INO missed Wall Street expectations by 20%.
Looking forward, the company is expected to have an EPS loss of $0.16 in the upcoming quarter. That's wider than the $0.12 loss it had last year.
But EPS misses aren't the only reason INO stock dipped 20% in the last month. On April 30, the stock fell more than 17% after the company made this decision...