The Bitcoin market cap plays a key role in making sense of Bitcoin value predictions of $10,000, $100,000 and even $1 million.
First, I must point out that, technically speaking, the "Bitcoin market cap" is something of a misnomer. It's what people have come to call the total value of all the bitcoins mined so far multiplied by the current Bitcoin price.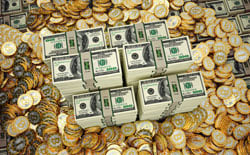 The reason is that it mimics the market cap of a stock. But while the term is not quite accurate, the Bitcoin market cap is a convenient shorthand for describing what all the world's bitcoins are worth at a given point in time.
And it has become a tool for calculating future Bitcoin value.
As of today, the Bitcoin market cap is $3.2 billion. That's 14.22 million bitcoins times $225, the price of Bitcoin on Monday afternoon.
That $3.2 billion total doesn't seem like a lot of money for a technology that's expected to revolutionize the world of finance.
Other global currencies have very high values to facilitate all the transactions that must happen every day to keep the global economy functioning.
For instance, the M2 money supply of the U.S. dollar, the world's reserve currency, is just shy of $12 trillion. For the euro, it's 9.86 trillion euros, or $10.76 trillion.
The $3.2 billion Bitcoin market cap isn't even a lot in the industry of global transactions.
Just look at PayPal, a relatively small player in the transaction industry. It processes $60 billion worth of transactions every quarter. And credit card giant Visa Inc. (NYSE: V) processes $1.2 trillion every quarter.
But don't let these numbers fool you. The Bitcoin market cap will go higher…
The forces that today are driving millions of dollars in venture capital investment in Bitcoin will eventually start to drive the Bitcoin market cap to the levels needed for it to become a global financial tool. Just take a look at what's ahead for Bitcoin prices…