For June 2, 2015, here's how the stock market did today, the top stock market news, and stocks to watch based on today's market moves…
How Did the Dow Jones, S&P 500, Nasdaq Do Today?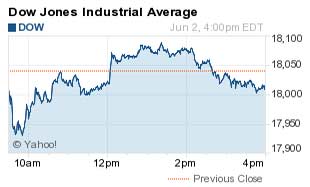 Dow: 18,011.94, -28.43, -0.16%
S&P 500: 2,109.60, -2.13, -0.10%
Nasdaq: 5,076.52, -6.40, -0.13%
On Tuesday, the Dow Jones rose 28 points on a day of gains and losses for the broader markets. Investors continue to keep a keen eye on the debt debacle in Greece and economic reports that will culminate with Friday's May jobs report.
Shares of LinkedIn Corp. (NYSE: LNKD) jumped 2% on rumors that activist investor Carl Icahn may build a stake in the firm.
The S&P 500 Volatility Index (VIX), the market's fear gauge, gained 1.9% on the day.
What Happened to the Dow Jones Today (DJIA)
Factory Focus: This morning, the U.S. Commerce Department announced that orders for domestic goods fell 0.4% in April, marking the eighth decline in nine months. Orders for durable goods – products manufactured with the goal of lasting three years – fell 1% in April. Orders for nondurable goods increased 0.2%.
Terrorism Threats: Airline stocks slipped today after multiple bomb threats were reported against domestic aircraft. Also, Delta Air Lines Inc. (NYSE: DAL) released a weak outlook for the year. Shares of Delta slipped more than 2.5%. The news also rattled rivals like United Continental Holdings Inc. (NYSE: UAL) and American Airlines Group Inc. (Nasdaq: AAL).
Greek Tragedy: German Chancellor Angela Merkel, French President François Hollande, International Monetary Fund head Christine Lagarde, European Central Bank President Mario Draghi, and other world leaders are in the final stages of providing a "final" offer to Greek Prime Minister Alexis Tsipras on his nation's pending debt payment in June. Greece owes roughly $1.6 billion to its creditors over four weekly payments. However, ongoing concerns about its ability to pay are raising the possibility of either default or the nation's exit from the European Union. Here's how much Greece owes, shown in easy-to-grasp charts…
On Tap Wednesday: Investors will dissect the ADP National Employment report on private sector job creation and parse through the Commerce Department's monthly trade deficit update. Companies reporting earnings Wednesday include Five Below Inc. (Nasdaq: FIVE), Quanex Building Products Corp. (NYSE: NX), Vera Bradley Inc. (NYSE: VRA), and Verint Systems Inc. (Nasdaq: VRNT).
Stocks to Watch: JUNO, AZN, PVH, BTI, BOJA, AAPL
Stocks to Watch No. 1, JUNO: Shares of Juno Therapeutics (Nasdaq: JUNO) surged as much as 13% before retreating in the late hours after a report by Bloomberg indicated that the company could be an acquisition target of AstraZeneca Plc. (NYSE ADR: AZN). The biopharmaceutical firm that develops cancer treatments still finished up 6.6% on the day to close at $56.57.
Stocks to Watch No. 2, PVH: Shares of apparel giant PVH Corp. (NYSE: PVH) surged more than 7% on news the company reported stronger than expected quarterly results and hiked its 2015 profit forecast. The owner of Calvin Klein and other popular brands also announced a $500 million stock buyback program.
Stocks to Watch No. 3, BTI: A Canadian judge agreed with plaintiffs that tobacco companies should pay financial restitution for selling tobacco and obscuring associated health effects to smoking addicts and others affected by the habit. Shares of British American Tobacco Plc. (Nasdaq: BTI) slipped more than 2% after the court's ruling, while rivals Philip Morris International Inc. (NYSE: PM) and Japan Tobacco Inc. also faded on news they must pay a combined 15.6 billion Canadian dollars ($12.5 billion) in damages.
Stocks to Watch No. 4, BOJA: Shares of Bojangles Inc. (Nasdaq: BOJA) slipped 7.5% today after its IPO lockup ended and analysts sharpened their knives over the restaurant chain's outlook. Bank of America Corp. (NYSE: BAC) and Goldman Sachs Group (NYSE: GS) both initiated coverage but set widely different price targets of $30 and $23, respectively. BOJA stock closed today at $25.85. Here's why BOJA is a stock to avoid.
Stocks to Watch No. 5, AAPL: Re/Code reported this morning that Apple Inc. (Nasdaq: AAPL) plans to introduce a new music streaming service during the company's Worldwide Developers Conference next week. The service will compete directly against rival Spotify AB and other popular services that don't require users to purchase music.
How to Make Money in the Market Today
Now our exclusive investor guidance:
Don't lose your hard-earned money by getting caught on the wrong side of a trade. Stay informed on what's going on in the markets by following us on Twitter @moneymorning