On June 3, 2015, the Dow Jones Industrial Average (DJIA) Index ended the day up 64 points - or 0.4%.
Here's your quick investor roundup of the biggest DJIA index news today...
How the DJIA Index, S&P 500, and Nasdaq Did Today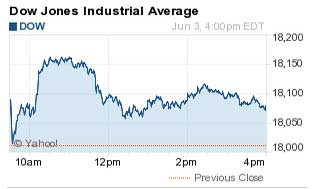 Dow: 18,076.27, +64.33, +0.36%
S&P 500: 2,114.07, +4.47, +0.21%
Nasdaq: 5,099.23, +22.71, +0.45%
The DJIA index today rose 64 points after investors cheered domestic economic data and the Federal Reserve said the United States economy was growing at a "modest to moderate pace" in the second quarter.
The Fed said the economy expanded between April and May in the Beige Book, which surveys overall economic activity.
The S&P 500 Volatility Index (VIX), the market's fear gauge, fell 4% on the day.
Top Stock Market News Today
Jumping for Jobs: The ADP National Employment this morning reported the number of jobs created by U.S. private companies in May. The nation added 201,000 jobs, a hair ahead of economist expectations of 200,000. In addition, the U.S. trade deficit narrowed in April. This comes after March's deficit topped $50 billion as a major port strike ended on the West Coast.
Greek Tragedy: The game of chicken between Greece and its international creditors continues. This morning, the Greek government warned it could skip a 300 million euro payment to the International Monetary Fund (IMF) this week if both sides fail to find common ground. This news comes after it was reported that Greek Prime Minister Alexis Tsipras, German Chancellor Angela Merkel, and French President Francois Hollande agreed by phone they needed to act quickly.
On Tap Thursday: Tomorrow, the markets will weigh in on weekly jobless claims and a speech from Federal Reserve Gov. Daniel Tarullo and continue to speculate on the Bank of England's plans to remain in the European Union after its accidental release of "Project Bookend," a contingency plan designed for the country's exit from the economic bloc. Companies reporting earnings include J M Smucker Co. (NYSE: SJM), Land's End Inc. (Nasdaq: LE), Navistar International Corp. (NYSE: NAV), VeriFone Systems Inc. (NYSE: PAY), and Zoe's Kitchen Inc. (NYSE: ZOES).
Now for the Top Stocks to Watch Today...
[epom key="ddec3ef33420ef7c9964a4695c349764" redirect="" sourceid="" imported="false"]
Stocks to Watch No. 1, LULU: Shares of Canadian athletic apparel company Lululemon Athletica Inc. (Nasdaq: LULU) were up more than 2.4% today after an "Outperform" rating on the company was reaffirms by Oppenheimer research analysts. The stock currently has an upside price target of $70.00, which is a nice premium over today's closing price of $61.27. The company is holding its annual general meeting in Vancouver, and its CEO is likely to face questions from outspoken investors who are demanding reform to its board of directors and changes in corporate governance.
Stocks to Watch No. 2, SNCR: Shares of Synchronoss Technologies Inc. (Nasdaq: SNCR) were up more than 15.2% on news the software maker is exploring a possible sale. The tech firm is working with investment bank Qatalyst Partners on a deal that could be worth up to $2 billion. A number of private equity firms have expressed interest. The company's success is forged on the backbone of the remarkable growth of cloud computing, which is one of Money Morning Tech Specialist Michael A. Robinson's unstoppable trends in technology. BONUS: You can be part of the next big technology deal if you just know these four words...
Stocks to Watch No. 3, WEN: Shares of Wendy's Co. (Nasdaq: WEN) surged to a seven-year intraday high, closing the afternoon up 3.3%. The company announced plans to repurchase $1.4 billion in company stock, including a large amount from its largest shareholder, activist investor Nelson Peltz's Trian Group. The firm also announced plans to sell its bakery operations.
How to Make Money in the Market Today
Don't miss these tips:
Don't lose your hard-earned money by getting caught on the wrong side of a trade. Stay informed on what's going on in the markets by following us on Twitter @moneymorning
About the Author
Garrett Baldwin is a globally recognized research economist, financial writer, consultant, and political risk analyst with decades of trading experience and degrees in economics, cybersecurity, and business from Johns Hopkins, Purdue, Indiana University, and Northwestern.