Nearly every weekday morning I head to my local gym for a workout. I typically work out the upper half of my body on one day, and the lower half on the next...
"Where in the world is Tom going with this? And what does it have to do with trading?" you must be asking. More than you think.
I recently wasn't progressing in my workouts, so I hired a trainer. He said that I needed to vary my routine more and create what he calls "muscle confusion" to build muscle.
This reminded of a rare event called "channel collision" that's happening now for one stock that can build rapid profit muscle for you.
The Predictive Power of Channel Collisions
Recently, I've been looking at the Transportation Averages as well as Norfolk Southern Corp. (NYSE: NSC) in combination on a single chart. Viewing the chart (below), it looks like what I call "channel collision."
This is where we have a long- and short-term trend collision, a condition that most people don't notice, but as your "technical coach," I want you to see what most miss. When I recently analyzed NSC stock movement with my "Darknet" screening technique, which I alluded to in my last article, it came up as a "buy." It's one of the many screening techniques that readers of my free e-letter Power Profit Trades learn to use.
Next, if we look at the chart below at both long- and shorter-term intermediate channels, we see a collision around $92 per share for NSC. In brief, the collision of these two points means we can expect a support point based on these channels holding for the short term.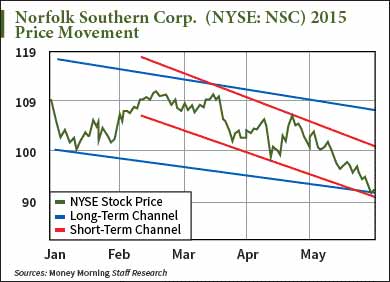 Just how predictive are channel collisions?
Well, we have back-tested them on hundreds of stocks over 1,000-day periods, so we've done millions of trials. Our results show that, on average, we expect these support points to hold for the short term about 70% of the time.
My time projection on a channel collision signal is 20 to 30 days, so this isn't a long-term investment. It basically holds for no longer than a month. So what do we do when we come across a trading strategy that has a high historical probability of profit, but with a short-term duration? Well, we could simply buy the stock and hold. Let's take a look at a case study with NSC:
The graph above shows that buying 100 shares of NSC at the current stock price would cost us roughly $9,276 plus commissions. While the chance of NSC falling to zero is unlikely, why would we tie up this amount of money?
Of the last five "signals" that have occurred on NSC, the average trade move was $189. That amounts to a 2% return on today's stock price in 30 days.  Let's not forget that NSC pays a dividend, but we aren't hanging around in this stock long enough to get one.
The problem I have with this is that there are no risk controls here if the stock were to continue to drop, other than to get out in 30 days.
Unlock Maximum Profits with This Option Play
Cost of Trade: $9,276
Average Return: $189
Risk:  Unknown
Let's talk about a call option instead...
Join the conversation. Click here to jump to comments…
About the Author
Tom Gentile, options trading specialist for Money Map Press, is widely known as America's No. 1 Pattern Trader thanks to his nearly 30 years of experience spotting lucrative patterns in options trading. Tom has taught over 300,000 traders his option trading secrets in a variety of settings, including seminars and workshops. He's also a bestselling author of eight books and training courses.