The Organization of the Petroleum Exporting Countries (OPEC) will hold its first oil summit of the year in Vienna tomorrow (Friday). The OPEC meeting will be the first since November.
Oil prices are feeling pressure ahead of the OPEC meeting as investors brace for any bearish outcomes.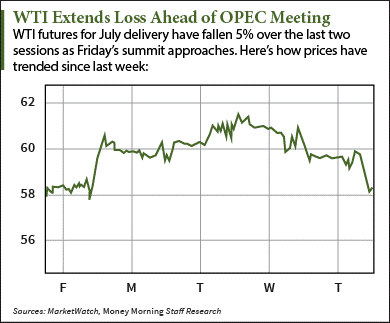 By 3:30 p.m. today, WTI oil had retreated 2.6% to $58.09 a barrel. The U.S. benchmark has tumbled 4.8% in the last two days alone. It's down 3.5% this week.
Brent oil prices have endured a similar drawback. They lost 2.71% and trade at $62.79 a barrel today. The international benchmark has had a rougher week than its U.S. counterpart, losing 4.2% this week and 5.2% since Tuesday.
The highly anticipated OPEC meeting will be the first since Nov. 27, when the cartel decided to leave production levels unchanged at 30 million barrels per day. The decision sent WTI crashing 7% to below $69 - the lowest one-day drop since May 2010.
Saudi Arabia spearheaded the November decision. The unchanged output put countries like Russia, Nigeria, and Venezuela at risk due to their economic dependence on prices of at least $90 a barrel.
This move to maintain production was considered the first shot in the "price war." Tomorrow's summit will be the first time the United States has formally sat down with the cartel since then.
"We will have to see major concessions from others within OPEC before the Saudis will return to a more cooperative approach," Michael McCarthy, a chief strategist at CMC Markets in Sydney, told Bloomberg. "It's pretty clear that the Saudis are asserting their authority within OPEC, with the group appearing to take on U.S. producers."
OPEC and the United States have had robust output this year. According to the Energy Information Administration (EIA) and International Energy Agency (IEA), OPEC members collectively produced 31.1 million barrels a day in March - well above its 30 million barrel ceiling - while the United States produced only 3 million barrels.
Here are the three biggest things to keep an eye on during the OPEC meeting tomorrow...