The Organization of the Petroleum Exporting Countries (OPEC) will hold its first oil summit of the year in Vienna tomorrow (Friday). The OPEC meeting will be the first since November.
Oil prices are feeling pressure ahead of the OPEC meeting as investors brace for any bearish outcomes.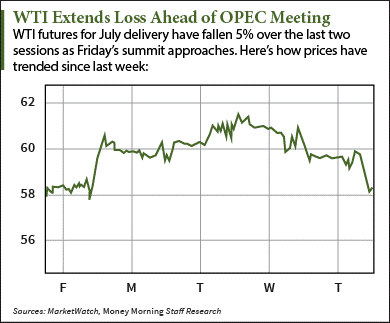 By 3:30 p.m. today, WTI oil had retreated 2.6% to $58.09 a barrel. The U.S. benchmark has tumbled 4.8% in the last two days alone. It's down 3.5% this week.
Brent oil prices have endured a similar drawback. They lost 2.71% and trade at $62.79 a barrel today. The international benchmark has had a rougher week than its U.S. counterpart, losing 4.2% this week and 5.2% since Tuesday.
The highly anticipated OPEC meeting will be the first since Nov. 27, when the cartel decided to leave production levels unchanged at 30 million barrels per day. The decision sent WTI crashing 7% to below $69 - the lowest one-day drop since May 2010.
Saudi Arabia spearheaded the November decision. The unchanged output put countries like Russia, Nigeria, and Venezuela at risk due to their economic dependence on prices of at least $90 a barrel.
This move to maintain production was considered the first shot in the "price war." Tomorrow's summit will be the first time the United States has formally sat down with the cartel since then.
"We will have to see major concessions from others within OPEC before the Saudis will return to a more cooperative approach," Michael McCarthy, a chief strategist at CMC Markets in Sydney, told Bloomberg. "It's pretty clear that the Saudis are asserting their authority within OPEC, with the group appearing to take on U.S. producers."
OPEC and the United States have had robust output this year. According to the Energy Information Administration (EIA) and International Energy Agency (IEA), OPEC members collectively produced 31.1 million barrels a day in March - well above its 30 million barrel ceiling - while the United States produced only 3 million barrels.
Here are the three biggest things to keep an eye on during the OPEC meeting tomorrow...
Three Biggest Things to Watch During the OPEC Meeting
First, all eyes will be on whether or not OPEC maintains its daily production of 30 million barrels.
[epom key="ddec3ef33420ef7c9964a4695c349764" redirect="" sourceid="" imported="false"]
Many analysts expect the cartel to stick to its strategy, despite exceeding its quota all year.
"It would at best be symbolic, as its members are already producing more than their quotas," The Wall Street Journal reported. "But it could reinforce the message that OPEC is determined to maintain production at all costs, and could perhaps restore some of [Russia's] credibility as a force in the global oil market."
Second, OPEC stated it doesn't want to cut production unless Russia follows suit. Russia, a non-OPEC member, has produced near a record level of 10.7 million barrels a day since January, which threatens the cartel's market share. Like Saudi Arabia, Russia is expected to stay reluctant about cutting production.
Finally, a few "Big Oil" executives from Exxon Mobil Corp. (NYSE: XOM) and Royal Dutch Shell Plc. (NYSE ADR: RDS.A) will attend the OPEC meeting. Traders are watching for tension between the oil companies and OPEC as they meet for the first time since the November summit.
The world's largest oil firms have taken a hit since OPEC's production decision last November. Exxon and Shell earnings both plummeted 50% from Q1 2014 to Q1 2015. Chevron Corp.'s (NYSE: CVX) Q4 2014 earnings were the lowest since 2009.
But their earnings had a silver lining. There's one area of their operations that ended up doubling its revenue from Q4 2014 to Q1 2015.
Here's a detailed breakdown of how Big Oil companies performed last quarter - and what's next for their stocks...
I will be live tweeting the OPEC meeting tomorrow. Follow me on Twitter at @AlexMcGuire92 to stay on top of the news as it breaks.
Related Articles: