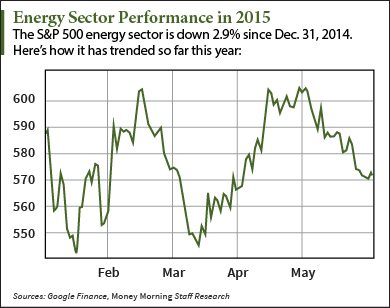 Now is a great time to look for top energy stocks to buy because of low prices in the energy market.
WTI oil prices currently hover under $60. That's down 40% from the year-ago high of $98.
Natural gas prices have seen a similar decline. They've fallen 38% in the last year and currently trade around $2.50 per million British thermal units (BTUs).
But those low prices have primed the oil and gas sectors for a wave of M&A activity, resulting in a new group of heavyweight companies that will lead the market into the "new energy age."
Royal Dutch Shell Plc. (NYSE ADR: RDS.A) acquired BG Group (OTCMKTS ADR: BRGYY) for $70 billion in April - the largest energy deal in more than a decade. Last November, Halliburton Co. (NYSE: HAL) snatched up oilfield services competitor Baker Hughes Inc. (NYSE: BHI) for $34.6 billion.
All of the consolidation among energy companies means the market will be a lot leaner by the end of the year.
"We will see a restructuring of assets throughout the upstream (production) to midstream (transport and soon export) to downstream (refining and distribution) process," Money Morning's Global Energy Strategist Dr. Kent Moors explains. "All of these will hand us some very nice investment opportunities."
Here are the four best energy stocks to buy now as oil and gas companies adjust to the new market climate...
The Four Best Energy Stocks to Buy Now
Energy Stocks to Buy Now, No. 1: Cheniere Energy Inc. (NYSEMKT: LNG) is a company specializing in the production of liquefied natural gas (LNG). The firm owns and operates the Creole Trail Pipeline, which connects the Sabine Pass LNG terminal in Texas with natural gas markets throughout North America. Last year, Cheniere became the first energy company in more than 40 years to receive Energy Department approval to export LNG. The United States is on track to provide 8% to 12% of worldwide LNG exports by 2020, and Cheniere will be at the forefront of the U.S. gas revolution. LNG demand is projected to double over the next decade, and LNG stock will soar alongside it...
Here are three more of the best energy stocks to buy now...
Energy Stocks to Buy Now, No. 2: Williams Companies Inc. (NYSE: WMB) is an Oklahoma-based infrastructure company that manages midstream assets, such as natural gas pipelines and storage facilities. Williams specializes in processing olefins - a form of hydrocarbon used to produce plastics and petrochemicals. WMB has one of the best dividend policies in the energy sector. The company stated in its Q1 earnings report that it plans on increasing its dividend by 22% to $2.38 this year and 54% to $3.01 by 2017. WMB is one of Money Morning Chief Investment Strategist Keith Fitz-Gerald's favorite energy stocks to buy now. In fact, it's gained 17% since he first recommended it using this "secret indicator"...
[epom key="ddec3ef33420ef7c9964a4695c349764" redirect="" sourceid="" imported="false"]Energy Stocks to Buy Now, No. 3: Alon USA Energy Inc. (NYSE: ALJ) is an independent oil refiner operating mostly in the Southwestern and Western regions of the United States. The company's facilities make up a large portion of the Gulf Coast's concentration of refineries. During the peak of the Senate's Keystone bickering, ALJ stock was soaring due to its commitment to refining the pipeline's transported crude. It has leaped 38.2% this year, becoming one of the best performing oil stocks of 2015. Although the Keystone deal hasn't panned out yet, ALJ stock has a one-year target estimate of $19 a share...
Energy Stocks to Buy Now, No. 4: U.S. Silica Holdings Inc. (NYSE: SLCA) is a producer of "frac sand" - specialized sand used in the hydraulic fracturing process. The hydraulic fracturing process involves pumping pressurized water into horizontal wells to open up cracks in the shale and allow oil and natural gas to flow out and reach untapped hydrocarbon deposits. U.S. Silica's sand is used afterward to keep those cracks open so the hydrocarbons don't get trapped in the shale. SLCA is up 24.5% this year and is poised to go higher as sand fracking grows into a $10 billion industry...
Follow Money Morning on Twitter to stay informed on all of best energy stocks to buy --@moneymorning and @AlexMcGuire92.   
There's a Better Way to Play Oil Than ETFs... Oil ETFs have soared in popularity recently. About $6 billion was invested in oil ETFs in the first quarter alone. But many of these oil index ETFs have one major problem right now that many investors aren't aware of...