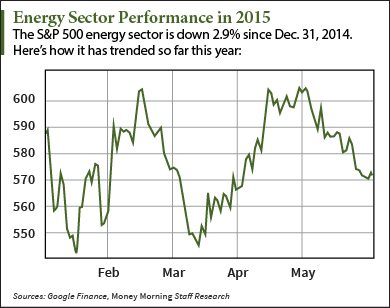 Now is a great time to look for top energy stocks to buy because of low prices in the energy market.
WTI oil prices currently hover under $60. That's down 40% from the year-ago high of $98.
Natural gas prices have seen a similar decline. They've fallen 38% in the last year and currently trade around $2.50 per million British thermal units (BTUs).
But those low prices have primed the oil and gas sectors for a wave of M&A activity, resulting in a new group of heavyweight companies that will lead the market into the "new energy age."
Royal Dutch Shell Plc. (NYSE ADR: RDS.A) acquired BG Group (OTCMKTS ADR: BRGYY) for $70 billion in April – the largest energy deal in more than a decade. Last November, Halliburton Co. (NYSE: HAL) snatched up oilfield services competitor Baker Hughes Inc. (NYSE: BHI) for $34.6 billion.
All of the consolidation among energy companies means the market will be a lot leaner by the end of the year.
"We will see a restructuring of assets throughout the upstream (production) to midstream (transport and soon export) to downstream (refining and distribution) process," Money Morning's Global Energy Strategist Dr. Kent Moors explains. "All of these will hand us some very nice investment opportunities."
Here are the four best energy stocks to buy now as oil and gas companies adjust to the new market climate…
The Four Best Energy Stocks to Buy Now
Energy Stocks to Buy Now, No. 1: Cheniere Energy Inc. (NYSEMKT: LNG) is a company specializing in the production of liquefied natural gas (LNG). The firm owns and operates the Creole Trail Pipeline, which connects the Sabine Pass LNG terminal in Texas with natural gas markets throughout North America. Last year, Cheniere became the first energy company in more than 40 years to receive Energy Department approval to export LNG. The United States is on track to provide 8% to 12% of worldwide LNG exports by 2020, and Cheniere will be at the forefront of the U.S. gas revolution. LNG demand is projected to double over the next decade, and LNG stock will soar alongside it…
Here are three more of the best energy stocks to buy now…