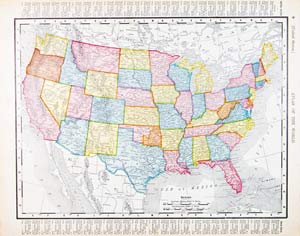 Want to know who is the richest person in each state?
For the first time in its 98-year history, Forbes has compiled the data and published it on April 29. Up until now, the publication released "The World's Billionaires" list, an annual ranking of the world's wealthiest people, since 1987. But this breakdown of the richest person in every state is a new, more specific take on the wealthy.
Now inquisitive people across the nation are free to compare their own fortunes to those of the top dogs in their respective states.
For Maryland, where Money Morning operates, it's Ted Lerner -- an 89-year-old self-made real estate tycoon worth $5 billion. Lerner is a lesser-known name on this list. You may find names like New York's David Koch, Washington's Bill Gates, or Nebraska's Warren Buffett more recognizable.
Want to make money? Here's how to make over $100,000 starting with a small amount of money… rolling stocks over and over again. Click here for this proven investing method…
Before you start fishing below, here are a few interesting tidbits Forbes noted:
Only 10 out of 50 of the richest people on this list are "largely do-nothing heirs." The rest are either self-made or inherited but vastly grew their wealth.
10 fortunes on the list rank among the largest 20 in America.
Only six states have no billionaires -- Alabama, Alaska, Delaware, New Mexico, North Dakota, and Vermont.
The richest rich person on the list is Microsoft Corp. (Nasdaq: MSFT) co-founder Bill Gates, with a $78.8 billion fortune. In fact, Gates is currently the richest person in the world. Between 2013 and 2014, he tacked a whopping $15 billion onto his total wealth -- $1.5 billion more than the entire GDP of Iceland in 2014.
The poorest rich person is Robert (Bob) Gillam, founder of investment management firm McKinley Capital Management LLC.
Now, go forth and behold who is the richest person each state has to offer right now -- and exactly how they cashed in...
Show Me the Money: Who Is the Richest Person in Each State?