An anonymous individual writing under the name "The Pump Stopper" launched a vicious attack on Ekso Bionics Holdings Inc. (OTCBB: EKSO) stock on June 2 that immediately pressured it and caused it to drop 24.28% to close at $1.36 a share on heavy volume. Understandably, that makes a lot of people nervous.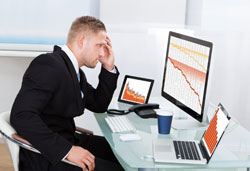 Here's the thing, though.
If you've been in this game long enough, you know what to look for and why stuff like this isn't a big deal in the scheme of things.
Today we're going to talk about how to recognize a legitimate short versus a short attack and what to do about it, especially when it comes to a stock you may own like Ekso.
Here's what you need to know:
First, let's tackle the elephant in the room - stock manipulation.
Most investors are familiar with the phrase "pump and dump." That's what the SEC calls a form of financial fraud used to artificially inflate the price of a stock - usually a small-cap or microcap - for personal gain by distributing misleading and false statements. That's the pump.
The dump comes later when the fraudsters suddenly sell their stock en masse and the price drops catastrophically, causing investors to lose their money.
It used to be done in so-called boiler rooms or small back offices like those depicted in the film The Wolf of Wall Street, but now it's most commonly perpetrated via the Internet and chat boards. Pump and dump is so extensive that these kinds of stock scams may now account for an estimated 5% to 15% of all spam email.
It's blatantly illegal.
The reverse of that is called "short and distort." That's what's happening with EKSO stock.
Instead of buying the stock in question, the perpetrators typically short the targeted company first, then release theoretically independent reports and analysis that is little more than a thinly veiled smear campaign. Once the stock has fallen, the parties involved buy to cover, bank their profits, and hopefully disappear.
This, too, is illegal, but that doesn't change the fact that it happens all the time.
Sadly, the SEC is totally outclassed and seemingly always a step behind. They simply don't have the resources to detect, prosecute, and punish every short-and-distort artist out there.
Many people wonder how this is possible, especially today. It's not as difficult as you would think...
Join the conversation. Click here to jump to comments…
About the Author
Keith is a seasoned market analyst and professional trader with more than 37 years of global experience. He is one of very few experts to correctly see both the dot.bomb crisis and the ongoing financial crisis coming ahead of time - and one of even fewer to help millions of investors around the world successfully navigate them both. Forbes hailed him as a "Market Visionary." He is a regular on FOX Business News and Yahoo! Finance, and his observations have been featured in Bloomberg, The Wall Street Journal, WIRED, and MarketWatch. Keith previously led The Money Map Report, Money Map's flagship newsletter, as Chief Investment Strategist, from 20007 to 2020. Keith holds a BS in management and finance from Skidmore College and an MS in international finance (with a focus on Japanese business science) from Chaminade University. He regularly travels the world in search of investment opportunities others don't yet see or understand.