After a lot of fits and starts, Internet TV is on the verge of breaking out from its niche status.
And while online TV holds the promise of giving consumers more options than they've had in the past, it won't be a panacea.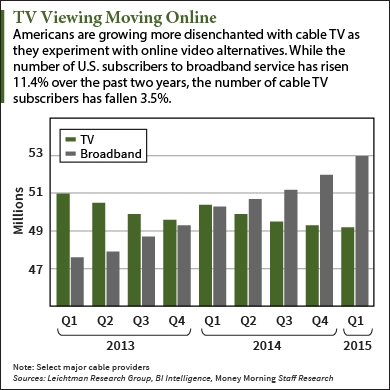 What's happening is that Americans who are fed up with their cable companies – the steep fees, lousy customer service, and restrictive "bundles" – have turned to Internet-based, video-streaming alternatives.
There's Netflix Inc. (Nasdaq: NFLX), Sling TV, Hulu, PlayStation Vue, and Amazon.com (Nasdaq: AMZN), just to name some of the most prominent.
Last month research firm MoffettNathanson reported that the total number of U.S. cable customers shrank by 0.5% from the previous year.
That may not sound like much, but it shows the industry is at a tipping point. The portion of Americans that pay for cable was 80% in 2012, a figure expected to drop to 76.9% by next year.
Companies in the cable industry and beyond know that Internet TV is the future – and no one wants to get left behind. The changes we're seeing now will touch just about every U.S. consumer of video content in some way.
Think about what's been happening:
Apple Inc. (Nasdaq: AAPL) is prepping an Internet TV service of its own, which is expected to debut next year.
Both HBO and Showtime started to offer their programming over the Internet outside of cable TV packages this year.
Moving beyond the era of cable TV companies sounds like a dream come true to most Americans. But Internet TV comes with its own share of frustrations…
The Good, the Bad, and the Ugly of Internet TV