After an "impressive" May jobs report, the Dow Jones Industrial Average (INDEXDJX:.DJI) ended its third consecutive week on a down-note, losing 56.12 points (-0.31%) on Friday while the S&P 500 (INDEXSP:.INX) also fell for the third consecutive week, dropping 3.01 points (0.14%) on the day.
On the week, the Dow lost 161 points or 0.9% to 17,849.46 while the S&P 500 fell 15 points or 0.7% to 2092.83. For the year, the Dow has gained a mere 26 points, far less than 1%, while the S&P 500 has climbed by 33 points or only 1.6%.
The NASDAQ Composite (INDEXNASDAQ:.IXIC) has done much better, ending the week basically flat at 5068.46; it is now up about 7% on the year as social media, biotech and tech stocks continue to rise.
But the week's biggest story isn't on the big indexes...
Traders Think the Fed May (Finally) Do the Right Thing
No, the big story this week was the big jump on bond yields both in the U.S. and Europe. The yield on the benchmark 10-year Treasury spiked up by 30.5 basis points to 2.402%, its biggest jump since May 2013.
The 10-year German bund yield jumped to 0.84%, up 26 basis points in a month and nearly 80 basis points in two months, when it hit the ridiculous level of 0.5% around the time the ECB started its QE program.
While some believe interest rate volatility is being exacerbated by low liquidity in bond markets, the truth is that yield levels have been artificially suppressed by central banks for years and are ripe for sharp increases of the type we saw this week.
U.S. Treasuries tend to closely track German yields, and one of the reasons for the sharp rise in U.S. yields last week was the spike in German yields. But the other reason was concern that the Fed, despite hemming and hawing about raising rates, will do the right thing and finally move off the zero mark in September.
Don't Believe a Word of It: Unemployment Is Still Bad
Those concerns were solidified on Friday after the Commerce Department reported that the economy added a higher than expected 280,000 nonfarm payroll jobs in May (the forecast was 226,000).
Even more significant was that a 0.3% rise in hourly wages and a 2.3% year-over-year gain in wages, better than the 2% annual pace of recent years and the strongest gain since August 2013.
While the official unemployment rate increased to 5.5%, this was due to the fact that more people entered the work force. U6, which included underemployed and discouraged workers, remained at 10.8%, and we should not forget that were the same number of people in the labor force today as in January 2009 when President Obama took office, the official unemployment rate would be above 11%, not 5.5%.
Nonetheless, this better-than-expected report signaled to the market that the Fed is running out of excuses to delay raising interest rates. Of course, a Fed that understood how a real-world economy works rather than the theoretical economy on which they base policy would have started raising interest rates at least a year ago. But investors must accept the world as it is, not as they would wish it to be, and this report likely solidified a September lift-off date for U.S. interest rates.
A Bank Run Starts in Greece
Expectations of a September interest rate hike were reflected in a rise in the dollar on Friday. The euro, which had traded as high as $1.12 earlier in the week, settled back to $1.11 on Friday while the yen, which has finally broken through the $1.22 resistance level, closed at $1.25.
The euro has been volatile as European officials continue to negotiate with the lunatics running the Greek government, which has now run out of money while witnessing a massive run on its banks.
Regardless of whether Europe lets Greece off the hook for now, Greece remains a bankrupt country in a bankrupt continent in a bankrupt world. Germany probably wants to continue to keep paying Greece's bills in order to keep the European Union together and keep reaping the benefits of trading with weaker countries inside a single currency, but the lack of viability of the union is increasingly apparent to anyone with a functioning cerebellum.
Racing Toward a "Spoiled" Future
Outside the world of economics, the world of geopolitics continues to deteriorate. Russia is now spending 34% of its GDP on its military and shows no signs of doing anything other than intensifying its invasion of the Ukraine. China's aggression in the South China Sea is also advancing as it builds a 21st century Silk Road across Asia, Africa and the Middle East.
And the Middle East continues to witness a raging Sunni-Shi'a war as the Obama administration continues to negotiate a nuclear agreement with an Iranian government that repeatedly and publicly states that it has no intention of abiding by its terms.
One has to wonder what Mr. Obama knows that the rest of the world doesn't; my bet is that he knows absolutely nothing and is leading America and the world into the biggest foreign policy blunder of the last century. As Winston Churchill famously told Neville Chamberlain after he returned from signing the Munich Pact with Hitler: "You were given the choice between war and dishonor. You chose dishonor and you will have war."
America is peopled with spoiled citizens who expect entitlements without responsibility, spoiled investors who expect high returns without risk, and spoiled politicians who expect to be re-elected without delivering responsible policies.
As we begin the 2016 election season, America faces a choice between a productive future and crisis. We are likely to choose an unproductive future and are guaranteed crisis unless we change our ways very quickly.
Here Are 10 "One-Click" Ways to Earn 10% or Better on Your Money Every Quarter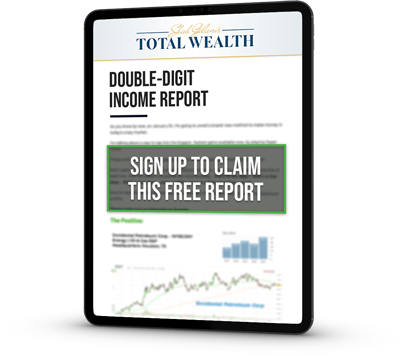 Appreciation is great, but it's possible to get even more out of the shares you own. A lot more: you can easily beat inflation and collect regular income to spare. There are no complicated trades to put on, no high-level options clearances necessary. In fact, you can do this with a couple of mouse clicks – passive income redefined. Click here for the report…
About the Author
Prominent money manager. Has built  top-ranked credit and hedge funds, managed billions for institutional and high-net-worth clients. 29-year career.