It's a good idea for investors to have a solid Nasdaq ETF (exchange-traded fund) as a core holding. For one reason, the Nasdaq Composite Index is having quite a year.
The Nasdaq topped the 5,000 mark on March 2 for the first time in 15 years. On May 27, the Nasdaq closed at a record high of 5,107. That marked the highest finish since the exchange peaked at 5,132.52 intraday on March 2000.
Year to date, the Nasdaq is up 6.65% - as is our favorite Nasdaq ETF. And over the past six months, the Nasdaq is up 7.39%, while the Dow Jones Industrial Average has gained just 1.49%, as this chart shows: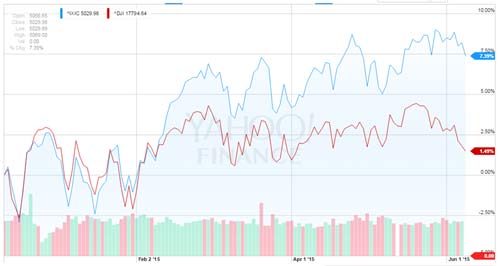 The Nasdaq's rise this year, widely outpacing the two other key benchmarks, is also much healthier than its climb during the dot-com bubble. Companies leading the Nasdaq today have solid earnings. Plus, many pay regular dividends.
These industry leaders affect the Nasdaq's performance the most because it is a market-weighted index. These are also key holdings in one of the best Nasdaq ETFs to invest in today...
 A Closer Look at the Best Nasdaq ETF to Invest in Now
Apple Inc. (Nasdaq: AAPL), which has led the Nasdaq for some four years, is the biggest company within the Nasdaq, with a market cap of $742 billion. Its weighting on the Nasdaq is roughly 10%, according to the Wall Street Journal. Shares of the iPhone maker are up 16.91% year to date and have more upside. We see AAPL becoming the first trillion-dollar company, which puts shares at $170 apiece. AAPL currently trades at $127.
Microsoft Corp. (Nasdaq: MSFT) is a distant No. 2 with a $373.1 billion market cap. Internet search goliath Google Inc. (Nasdaq: GOOG, GOOGL) is third with a market cap of $368 billion. Next are Facebook Inc. (Nasdaq: FB) and e-commerce goliath Amazon.com Inc. (Nasdaq: AMZN) at $228.59 billion and $197 billion, respectively.
Large-cap tech companies aren't the only Nasdaq drivers.
Also fueling the index are coffee king Starbucks Corp. (Nasdaq: SBUX), biotech giant Gilead Sciences Inc. (Nasdaq: GILD), and financial services leader T. Rowe Price Group Inc. (TROW).
That's why this Nasdaq ETF is one of the best long-term investments to make now. It isn't just exposed to tech firms, but to all the Nasdaq's strong players.
Money Morning Executive Editor Bill Patalon and Defense & Tech Specialist Michael A. Robinson call this Nasdaq ETF "the one investment you should never sell."
This Nasdaq ETF Is the Holy Grail of Tech Investing