Netflix Inc. (Nasdaq: NFLX) held its annual shareholder meeting Tuesday and shareholders voted to approve the Netflix stock split.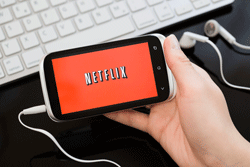 The stock split will bring Netflix's share total to 5 billion. That's more than 30 times the current number of shares on the market. This would be the second Netflix stock split, following a two-for-one split in 2004.
Netflix stock climbed 3% Tuesday ahead of the meeting. That pushed the Netflix stock price to a new high of $648.16. According to FinViz, NFLX has the 8th most expensive share price on American exchanges.
Company sources told CNBC we could see a five-to-one or 10-to-one split. That would bring share prices down between roughly $65 and $130.
"At a lower price point, there's a perception the stock is more accessible," Netflix spokeswoman Anne-Marie Squeo told Bloomberg in April.
But lowering the Netflix stock price isn't the only reason for a split.
In a filing from April, Netflix officials said issuing new stock would allow better flexibility for dividends, equity financing, and acquisitions.
Netflix would also have a comparable share total to other major tech firms. Apple Inc. (Nasdaq: AAPL) has 5.8 billion shares outstanding, while Microsoft Corp. (Nasdaq: MSFT) has 8.1 billion, and Facebook Inc. (Nasdaq: FB) has 2.3 billion.
Netflix is now worth an incredible $38 billion. That's more than CBS Corp. (NYSE: CBS), Viacom Inc. (Nasdaq: VIAB) and even Sony Corp. (NYSE: SNE).
Netflix shares have soared in 2015, gaining more than 89% in just over five months.
Now that the Netflix stock split has brought down the price of shares considerably, new investors will wonder whether they should buy NFLX. Here's what you need to know…
How to Play NFLX Following the Netflix Stock Split