Netflix Inc. (Nasdaq: NFLX) held its annual shareholder meeting Tuesday and shareholders voted to approve the Netflix stock split.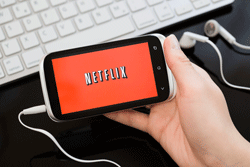 The stock split will bring Netflix's share total to 5 billion. That's more than 30 times the current number of shares on the market. This would be the second Netflix stock split, following a two-for-one split in 2004.
Netflix stock climbed 3% Tuesday ahead of the meeting. That pushed the Netflix stock price to a new high of $648.16. According to FinViz, NFLX has the 8th most expensive share price on American exchanges.
Company sources told CNBC we could see a five-to-one or 10-to-one split. That would bring share prices down between roughly $65 and $130.
"At a lower price point, there's a perception the stock is more accessible," Netflix spokeswoman Anne-Marie Squeo told Bloomberg in April.
But lowering the Netflix stock price isn't the only reason for a split.
In a filing from April, Netflix officials said issuing new stock would allow better flexibility for dividends, equity financing, and acquisitions.
Netflix would also have a comparable share total to other major tech firms. Apple Inc. (Nasdaq: AAPL) has 5.8 billion shares outstanding, while Microsoft Corp. (Nasdaq: MSFT) has 8.1 billion, and Facebook Inc. (Nasdaq: FB) has 2.3 billion.
Netflix is now worth an incredible $38 billion. That's more than CBS Corp. (NYSE: CBS), Viacom Inc. (Nasdaq: VIAB) and even Sony Corp. (NYSE: SNE).
Netflix shares have soared in 2015, gaining more than 89% in just over five months.
Now that the Netflix stock split has brought down the price of shares considerably, new investors will wonder whether they should buy NFLX. Here's what you need to know...
How to Play NFLX Following the Netflix Stock Split
While the Netflix stock split will bring the share price down considerably, the valuation of the company will remain the same.
And right now, Netflix's P/E ratio is astronomical at 182. For comparison, Apple has a P/E of 15.8 and Microsoft has a P/E of 19.
Money Morning's Technical Trading Specialist D.R. Barton Jr. says Netflix has shown strong user growth and has great content, but it's just too risky of a buy now.
"Netflix stock is a little rich for my blood right now," Barton said on FOX Business' last month. "I'm not a seller, I'm recommending a hold on this stock right now. If you have it in your portfolio already, then keep it. There is some upside here, but not enough upside to put new money to work."
Barton says the biggest opportunity for Netflix now is moving into China. And the already strong subscriber base helps the company immensely. Netflix now has more than 62 million subscribers worldwide.
"They've done a great job of growing that subscriber base, but I don't see it at these elevated levels," Barton said. "Let's wait for them to have a little pullback before putting new money in Netflix."
Another good barometer for a stock's value is its price/earnings to growth (PEG) ratio. A PEG ratio of 1.0 is considered fair value for a company. Right now, Netflix has a PEG ratio of 18.2, meaning it is heavily overvalued.
The Bottom Line: There will be increased interest in NFLX shares after the Netflix stock split brings prices down considerably. There's no denying Netflix stock's recent run, but it's still one of the most overvalued plays on the market. If you already own NFLX shares, the stock is a hold. But now is not the time to put new money into NFLX.
Profit Alert: Since Money Morning's Executive Editor Bill Patalon launched his Private Briefing program just a few short years ago, he's recommended 192 stocks that have either doubled or tripled in value. The service has completely revolutionized the way people invest. Keep reading to find out more about his extensive research and premium stock picks...
Follow me on Twitter @KyleAndersonMM.