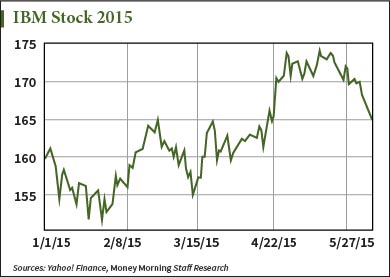 The IBM stock price has been crashing over the last week.
This comes at a time when it looked as though patient holders of International Business Machines Corp. (NYSE: IBM) stock were getting a reprieve from two straight years of decline.
On May 14, the IBM stock price traded at $174.05. That was up 9.2% for 2015. It was also up 16% from its lows established in late January. The stock hadn't closed this high since October 2014.
But now, IBM stock is trading just above $165. It has fallen 5% since it tallied that May high.
To answer that, it's important to answer the question, "Why is IBM stock doing so well in the first place?"
It all lies in the cloud.
How Cloud Excitement Overinflated the IBM Stock Price
This most recent earnings season was big for tech companies with cloud segments.
On April 23, Microsoft Corp. (Nasdaq: MSFT) reported "incredible growth" in its commercial cloud services business, which grew 106%.
On that same day, Amazon.com Inc. (Nasdaq: AMZN) reported cloud figures for the first time in earnings history from its Amazon Web Services division.
Both tech stocks soared. MSFT stock was up 10.5% after earnings. AMZN stock jumped 14.1%.
And surprisingly, the IBM stock price was up 3%. The only problem: IBM earnings came out two days before and reported a 12th straight quarter of sales declines. IBM stock fell 1.1% the day of its earnings on April 21.
IBM did report cloud numbers, but this was the second time it gave the explicit numbers. The first time it did so - the quarter before - it didn't raise any eyebrows quite like the Microsoft and Amazon episodes did.
That means IBM stock got a boost not from its own cloud growth, but rather latched onto a buying spree sparked by Amazon and Microsoft, simply because investors were willing to buy anything and everything cloud.
The problem with this flood of hot investor money pouring into IBM stock was that there wasn't much to get excited about on this front.
Yes, IBM has a cloud business, but here's why its cloud future is far more uncertain than the other two names...