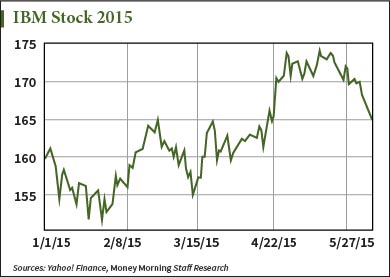 The IBM stock price has been crashing over the last week.
This comes at a time when it looked as though patient holders of International Business Machines Corp. (NYSE: IBM) stock were getting a reprieve from two straight years of decline.
On May 14, the IBM stock price traded at $174.05. That was up 9.2% for 2015. It was also up 16% from its lows established in late January. The stock hadn't closed this high since October 2014.
But now, IBM stock is trading just above $165. It has fallen 5% since it tallied that May high.
To answer that, it's important to answer the question, "Why is IBM stock doing so well in the first place?"
It all lies in the cloud.
How Cloud Excitement Overinflated the IBM Stock Price
This most recent earnings season was big for tech companies with cloud segments.
On April 23, Microsoft Corp. (Nasdaq: MSFT) reported "incredible growth" in its commercial cloud services business, which grew 106%.
On that same day, Amazon.com Inc. (Nasdaq: AMZN) reported cloud figures for the first time in earnings history from its Amazon Web Services division.
Both tech stocks soared. MSFT stock was up 10.5% after earnings. AMZN stock jumped 14.1%.
And surprisingly, the IBM stock price was up 3%. The only problem: IBM earnings came out two days before and reported a 12th straight quarter of sales declines. IBM stock fell 1.1% the day of its earnings on April 21.
IBM did report cloud numbers, but this was the second time it gave the explicit numbers. The first time it did so - the quarter before - it didn't raise any eyebrows quite like the Microsoft and Amazon episodes did.
That means IBM stock got a boost not from its own cloud growth, but rather latched onto a buying spree sparked by Amazon and Microsoft, simply because investors were willing to buy anything and everything cloud.
The problem with this flood of hot investor money pouring into IBM stock was that there wasn't much to get excited about on this front.
Yes, IBM has a cloud business, but here's why its cloud future is far more uncertain than the other two names...
The Problem with IBM's Cloud Strategy
You see, Amazon, through Amazon Web Services, has set the industry standard for the so-called "Infrastructure as a Service" (IaaS) corner of the cloud market. IaaS is a fancy way of saying companies handle their data center solutions off-site and manage them through a cloud interface - basically, through a web page.
[epom key="ddec3ef33420ef7c9964a4695c349764" redirect="" sourceid="" imported="false"]
AWS holds a 28% market share in IaaS. Microsoft's Azure platform holds 10%, while IBM, through SoftLayer, has around 7%, according to Synergy Research.
Investors right now are too hung up on the IaaS component of cloud. They aren't focusing on the real growth areas, which are Software as a Service (SaaS) and Platform as a Service (PaaS). SaaS is the delivery of software over the cloud, while PaaS delivers app-writing, developer tools over the cloud.
There's a lot more ground to be broken in these two areas, while IaaS is a much less exciting prospect.
That's because Amazon, a notorious cash-burner, along with Google Inc. (Nasdaq: GOOG, GOOGL), has been pouring money into crushing margins on IaaS so much that it's been commoditized.
And that is why the IBM stock price surge that accompanied this "cloud earnings season" was a farce.
The fact that the cloud buying spree came on the heels of Amazon earnings proves that it wasn't necessarily "cloud" that investors were excited about, but IaaS, as that's where Amazon operates.
An IaaS buying spree shouldn't boost the IBM stock price because IaaS is anathema to the IBM strategy. IBM has targeted a high-value strategy for years. It sold off personal computers a decade ago. And last year it shed low-end servers and chips. This was all to rid the company of low-margin segments.
IBM is going to have real trouble reconciling its IaaS strategy with its high-margin strategy as Amazon continues to drive the price down.
So, why is the IBM stock price falling?
Simply put, it shouldn't have risen in the first place.
Bottom Line: IBM is a high-margin business in a low-margin game when it comes to the virtual data center infrastructure component of cloud. Investors weren't buying cloud when so much of that hot money flowed into the sector on Amazon and Microsoft earnings, they were buying IaaS - whether they knew it or not. And while it's a mistake to follow the herd in the first place, it's even more of a mistake to follow them into an investment that isn't going to lead in the industry they're attempting to get a piece of. Look for more declines in the IBM stock price in months to come.
Jim Bach is an Associate Editor at Money Morning. You can follow him on Twitter @JimBach22.
Want to Make a Killing in Tech? Make sure you know these four tech industry terms that will make you money...