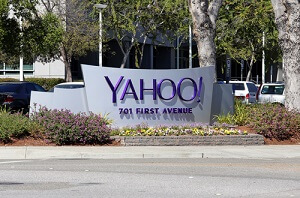 Since the September Alibaba IPO, the Yahoo stock price has moved almost in tandem with the Alibaba stock price.
That's where Yahoo! Inc. (Nasdaq: YHOO) stock derives most, if not all, of its value.
Yahoo holds 383.5 million shares in Chinese e-commerce giant Alibaba Group Holding Ltd. (NYSE: BABA). Yahoo first took up a stake in Alibaba in 2005 at the urging of founder Jerry Yang. What was once a 40% stake has been strategically sold off in increments since Marissa Mayer stepped in as CEO in 2012.
This has been, in part, to deliver windfall gains to impatient Yahoo shareholders disenchanted by a struggling core business.
That last tranche of Alibaba shares is worth $33.7 billion. That means at a market cap around $39.07 billion, Alibaba accounts for 86.3% of Yahoo's value.
A lot of Yahoo shareholders are in on the stock because they see Mayer giving that money back to shareholders in the form of buybacks when the final sale does happen.
And sure enough, Mayer and the financial wizards at Yahoo led by CFO Ken Goldman announced in January that Yahoo will spin off that stake sometime in the fourth quarter to avoid paying taxes on the sale. Yahoo shareholders will receive additional shares in the new entity once it is spun off.
This is what gives Yahoo its value.
It was the realization of Alibaba's value that helped propel the Yahoo stock price under Mayer more than 200%.
Investors haven't been piling in because they're excited about Mayer's new initiatives with mobile and native advertising. Yahoo is getting killed by Google Inc. (Nasdaq: GOOG, GOOGL) and Facebook Inc. (Nasdaq: FB) in online ads. That's partly why Yahoo has seen its ad revenue fall nine of the last 11 quarters.
Instead, investors want another piece of Alibaba. So since the Alibaba IPO, the Yahoo stock price has been sensitive to moves in BABA stock.
But there are signs the Yahoo stock price is losing its value as an Alibaba stock tracker...