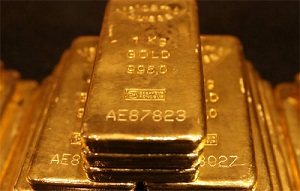 Gold prices per ounce were up $12.30, or 1.06%, at $1,189.90 shortly before noon today (Wednesday). The gold price traded as high as $1,193 an ounce earlier in the session.
Greece, China, and the bond market were the trio of key catalysts pushing the gold price higher Wednesday. Gold prices were up as the safe haven trade was back on.
Why Gold Prices per Ounce Are Up Today
Gold Prices per Ounce Catalyst No. 1: Greek debt negotiations are not going well and the clock is ticking.
Officials in the ailing Mediterranean country are trying to work out a bailout agreement with the International Monetary Fund (IMF). But time is running out before Athens must repay 1.6 billion euros ($1.8 billion) to the IMF at the end of the month, and negotiations have stalled.
Athens' creditors are looking for additional pension cuts and tax increases before they would be willing to give the cash-strapped country more funds. Prime Minister Alexis Tsipras, however, has rejected the latest set of reforms put forward by EU Commission President Jean Claude Juncker.
Tsipras warned on Tuesday that failure to reach a deal on Greece's bailout, which expires at the end of June, would be the beginning of the end for the Eurozone.
Wednesday, Tsipras meets in Brussels with German Chancellor Angela Merkel and President Francis Hollande on the sidelines of an EU-Latin America summit.
Gold Prices per Ounce Catalyst No. 2: China's central bank trimmed growth forecasts again on Wednesday.
The People's Bank of China revised down their forecasts for the country's 2015 economic growth and consumer inflation, citing increased downward pressure on economic growth. The PBOC now forecasts China's economy will expand 7% this year, down from projections made six months ago of 7.1%.
That would be the lowest growth rate in 25 years.
Also lowered was the forecast for China's 2015 consumer inflation. The rate was clipped to 1.4% from 2.2%.
Gold Prices per Ounce Catalyst No. 3: A roughed-up global bond market also goosed gold prices Wednesday.