The sum of all Carly Fiorina's net worth, together with her husband, is $59 million -- a whopper compared to average Americans...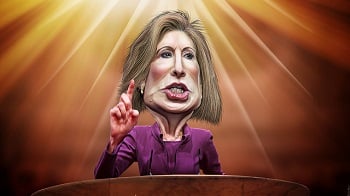 But the former Hewlett-Packard (NYSE: HPQ) chief-executive-turned-presidential-hopeful has been open -- even eager -- to talk about her finances with the media.
"I've taken hundreds of questions - whether about hot dogs or my personal finances - and I think it's all fair game," Fiorina said in a June 3 statement to CNN that accompanied her financial disclosures. "I think leadership of any kind requires trust and transparency and voters should demand no less from their political leadership in government."
A month prior on April 29, Fiorina, who lives with her husband in Mason Neck, Va., released two years' worth of tax returns. You see, the law (the Ethics in Government Act of 1978) requires that candidates reveal their current assets and income within a broad range for the year leading up to their candidacy. The 2016 candidate's disclosure included itemized assets, bank accounts, and real estate.
In 2013 (the most recent year available because the Fiorinas applied for an extension on their 2014 taxes), they reported an adjusted gross income of $1,953,929 on their 1040 form. Of that total, only $45,844 came from wages, while $575,045 came from capital gains.
Because the couple earned nearly $2 million in 2013, they easily qualify to be considered members of the "the one percent," according to The Wall Street Journal. The Fiorinas reported a $1.3 million income for 2012.
In fact, Carly Fiorina's net worth makes her the wealthiest candidate in the presidential race so far, with Hillary in second place, purportedly worth $21.5 million, according to Insidegov.com.  [The former HP CEO's reign may not last for long. According to CNN, billionaire Donald Trump is expected to announce his candidacy sometime this month.]
The Carly Fiorina net worth is important when you consider this cutting statement she made on April 17...
Carly Fiorina Net Worth Under Scrutiny
On April 17, Fiorina said she connects with the average American better than presidential opponent Hillary Clinton. The tech businesswoman worked her way up from a secretarial position at Hewlett-Packard to become the company's CEO.
Right now, Fiorina is the only woman in the GOP's field of candidates. Fiorina hit the ground running, continuing to criticize Clinton on the campaign trail the moment her candidacy became official on May 4. Fiorina portrays the prime candidate on the Democratic Party's side as untrustworthy and dishonest. She cites Clinton's email practices and the controversial donations surrounding her family's charitable foundation.
Clinton has fired back at Fiorina, pointing to the GOP candidate's tenure as HP CEO, during which 30,000 employees were laid off. Fiorina was dismissed from HP in 2005 with a hefty severance package of $21.1 million. HP stock shot up 7% the day she left.
But Fiorina's side of the story is that her firing came as the result of politics following HP's controversial merger with Compaq.
"I was fired in a boardroom brawl," Fiorina told "Meet the Press" host Chuck Todd on May 10. "It is a leader's job to challenge the status quo. When you do, you make enemies."
And while HP's stock price fell 66% in the wake of the merger, Fiorina likes to remind media members that under her leadership, HP realized a 104% surge in net worth, shooting from $44 million to $90 million.
"That's the thing about business: Facts and numbers and results actually count. It's not just about words as it is in politics," Fiorina responded to Todd. "I managed Hewlett-Packard through the worst technology recession in 25 years. And yes, indeed, some tough calls were necessary. There's nothing worse than laying someone off. On the other hand, many companies against which we competed are gone altogether."
She added: "And what people fail to comment on is the fact that we doubled the size of the company... We went from lagging behind in every product category to leading in every product category. And yes, in fact, we grew jobs here in the U.S. and all over the world. You can't just leave those facts out."
Find us on Twitter: @moneymorning
Big Brother Is Watching You: Right now in the United States, roughly 30 million surveillance cameras record a whopping 4 billion hours of footage every week. As technology evolves, so too does the capacity for spying. Here are just a few ways in which you're being watched... right now.
Related Articles: