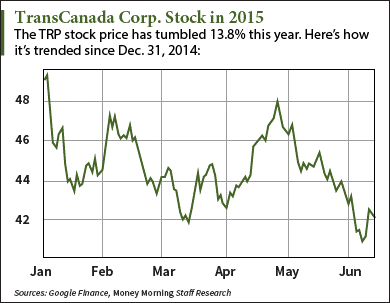 TransCanada Corp. (NYSE: TRP) has struggled in 2015.
The TRP stock price is down 13.8% this year. It bottomed out earlier this week, closing at a 52-week low of $40.81 a share on June 8.
The bearish sentiment makes sense so far. After all, there was no shortage of controversy regarding the construction of the TransCanada-owned Keystone XL Pipeline early this year.
The pipeline was criticized for its environmental and economic effects. FOX News reported that a segment of the Keystone leaked a dozen times in 2011. Concerns stemmed from the pipeline's route through a Nebraska aquifer, which supplies water to more than 2 million people.
The number of jobs the pipeline would create was unclear. TransCanada claimed it would create 20,000 jobs, while the American Petroleum Institute (API) reported 500,000.
U.S. President Barack Obama ultimately vetoed its construction on Feb. 24. Since then, the TRP stock price has fallen 4.4%.
This week, despite hitting the lowest level in a year on Monday, the TRP stock price gained 3.4%.
The boost came on news regarding another pipeline in TransCanada Corp.'s network...
Why the TRP Stock Price Is Up This Week
On Wednesday, Canada's National Energy Board (NEB) approved TransCanada's $1.38 billion construction of the North Montney Mainline natural gas pipeline.
TRP's new pipeline would connect natural gas fields in British Columbia with an $11 billion liquefied natural gas (LNG) plant called the Pacific NorthWest LNG project. The line would also connect to another pipeline called the Prince Rupert Gas Transmission line.
Pacific NorthWest is owned by Malaysian energy firm Petronas. The North Montney and Prince Rupert lines are vital to the firm's exports from Canada to energy-hungry Asia.
"This development is a significant step forward," said TransCanada CEO Russ Girling. "The Pacific NorthWest decision and the Government of Canada's approval of the North Montney Project are significant advancements to new market access for Canada's abundant natural gas resources."
After the failed Keystone proposal, TransCanada is poised for exciting growth with the North Montney project.
Yahoo! Finance analysts placed a one-year target estimate of $60.20 a share for the TRP stock price. That marks a huge 42.3% gain from yesterday's (Thursday) close of $42.31.
The Bottom Line: The TRP stock price has taken a beating this year due to the massive controversy surrounding the Keystone XL. But TransCanada has since focused on other prospects. With the announcement of its new North Montney project, the company clearly has a bright future ahead. And this week's 3.4% rally from Monday's 52-week low suggests now is the time to buy into the strong rebound.
Follow us on Twitter at @AlexMcGuire92 and @moneymorning for breaking news on the TRP stock price.
Related Articles: