The Alibaba Group Holding Ltd. (NYSE: BABA) share price traded up slightly this morning after the company announced it will launch its own video-streaming service in China. BABA shares climbed to $87.17 shortly after the opening bell.
The service will be known as Tmall Box Office or TBO. According to Reuters, it will offer a mix of in-house and third-party content, similar to Netflix Inc. (Nasdaq: NFLX).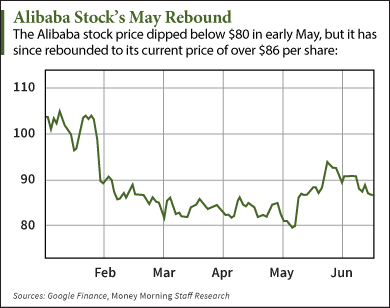 The service will include content from China as well as foreign countries. TBO's launch is expected within the next two months.
"Our mission, the mission of all of Alibaba, is to redefine home entertainment," Alibaba's Patrick Liu told reporters. "Our goal is to become like HBO in the United States, to become like Netflix in the United States."
Roughly 90% of the content on the site will be purchased by users through a subscription service or on a show-by-show basis. The remaining 10% of content will be offered for free.
This week's announcement is the latest in a string of moves Alibaba has taken to enter the entertainment business.
Last week, Alibaba shares climbed to $91.60 after the company announced it would be raising new funding for its entertainment company, Alibaba Pictures. Before that, Alibaba officials announced they'd spent $200 million to acquire a 30% stake in China Business News, a financial television and newspaper company.
Both moves are part of Alibaba's larger vision of creating a global brand with influence in numerous industries.
During the IPO process, Founder Jack Ma told investors his plans to build a global powerhouse.
"We want to be bigger than Wal-Mart," Ma said the day of the IPO. "We hope in 15 years people say this is a company like Microsoft, IBM, Wal-Mart; they changed, shaped the world."
That strategy and attitude are just part of the reason why the BABA share price will climb for years to come…