It's just a couple of days before Fitbit stock will start trading, and the Fitbit IPO price range has been increased.
The Fitbit IPO price range was hiked by $3 today (Tuesday). It's now set at $17 to $19 per share, up from $14 to $16.
This week's Fitbit Inc. (NYSE: FIT) IPO is one of the hottest new offerings of 2015.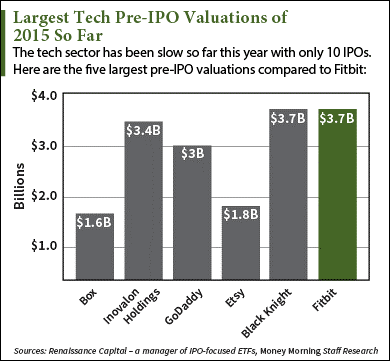 Fitbit will be the first public company solely dedicated to wearable tech - an exploding market on track for a $19 billion valuation by 2018.
The company plans to sell 29.85 million shares. The deal will raise $621 million at the midpoint of the range. That's roughly 39% more than the original amount of $448 million.
After the IPO, Fitbit should command a $3.7 billion valuation. It's tied with Black Knight Financial Services Inc. (NYSE: BKFS) as the most valuable tech IPO of 2015, followed by Inovalon Holdings Inc. (Nasdaq: INOV) and GoDaddy Inc. (NYSE: GDDY).
Here's everything you need to know about the Fitbit IPO price and how it compares to other 2015 tech IPOs...
Fitbit IPO Price Contends with Other Recent Tech Deals
The Fitbit IPO is priced near the most popular tech IPOs this year.
One of the first tech IPOs of 2015 was Box Inc. (NYSE: BOX). The cloud storage company went public on Jan. 22. It priced above its $11 to $13 range at $14 - which is 18% lower than the low end of the Fitbit IPO price range.
The two biggest tech IPOs of the last few months were GoDaddy and Etsy Inc. (Nasdaq:  ETSY).
GoDaddy had Fitbit's price range of $17 to $19 and ended up raising $460 million in its IPO. Etsy, which went public on April 15, set its range at $14 to $16 and ended up raising $267 million.
But the price ranges of these two IPOs were too high given their lack of profitability...
GoDaddy has yet to make a profit in its 18-year history. It lost $143.3 million last year and suffers from tough competitors like Google Inc. (Nasdaq: GOOG, GOOGL), which entered the web domain business with its new service, "Google Domains."
Etsy's situation is even worse. The company's net loss skyrocketed from $0.8 million in 2013 to $15.2 million in 2014. It has yet to turn a profit and admitted it may never happen due to the company's commitment to social consciousness and community values.
"We have a history of operating losses and we may not achieve or maintain profitability in the future," the Etsy IPO filing stated.
The lack of profitability has shown in their recent performance. GDDY stock fell 4.1% in its first month. Etsy has plummeted 47% and is considered the worst IPO of the year.
Although their price ranges weren't justified, that's not the case for the Fitbit IPO price...
One Reason Why the Fitbit IPO Price Range Increased Today