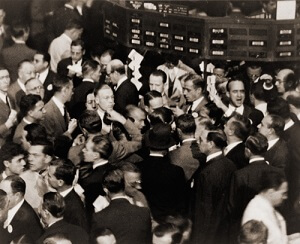 A basic understanding of how the stock market works is important for any potential investor who wants to trade stocks.
That's because a lot about how the stock market works is misunderstood.
You may think it's as easy as calling up a broker and purchasing stock at a quoted price, then watching as your trading account either goes up or down.
But for a rather simple marketplace, there are a lot of complexities undergirding it.
The first question is what is the stock market?
It sounds rather simplistic, but it is the marketplace for selling stocks - a claim of ownership on a company.
Now, how exactly does a company go public? How does an ownership stake go from the company's owners to you?
It begins with an initial public offering...
How the Stock Market Works: The IPO
We'll start from the beginning.
Let's say an entrepreneur has an idea for a company. To fund themselves, they can take out a business loan. But that will then tie the company down with a debt liability that must be repaid.
He or she can instead get funding by selling ownership stakes in the company, or shares.
He or she can approach an angel investor, a venture capital fund, friends, and family - anybody who he or she thinks will be interested in the underlying business and wants a stake in its potential future growth.
At this stage, a company is still private. Ownership is issuing shares in what's called the "primary market."
You'll hear a lot about the valuation of private companies like Uber and Pinterest. Those valuations are based off of what funding has come to the company through private investors.
At some point, private investors, including the company's owners who are likely to hold ownership in their own company, will want to cash in on their company. An IPO can help make it easier to monetize ownership stakes, while providing a further leg of funding.
This is done with an initial public offering (IPO).
In an IPO, a company will first begin to sell its stock to the public, or on "secondary markets."
It will almost always require the company to approach an investment bank, like Morgan Stanley (NYSE: MS) or Goldman Sachs (NYSE: GS), to underwrite the IPO deal.
The role of these investment banks is to make a market for ownership stakes in the company. After a company decides how much it wants to raise, a period of negotiating funding and share price will begin, and the market maker will eventually begin selling those shares to the public.
And this is where you as an individual investor will come in...