How to buy gold has taken a big leap into the digital age, thanks to something called HayekGold.
HayekGold is a way to buy and store physical gold with the security and ease of transfer of the Bitcoin network.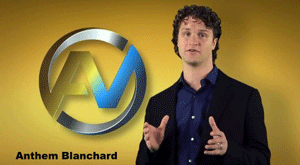 "We're taking the world's most trusted store of value through most of history and coupling it with the world's most innovative method of exchange and ledger of trust," Anthem Hayek Blanchard, the CEO of online precious metals retailer AnthemVault and the mastermind behind HayekGold, told Money Morning.
The HayekGold token is a digital representation of stored physical gold, which resides in a vault in Salt Lake City. AnthemVault sells customers the gold it then stores in the vault.
Each HayekGold "crypto-token" is linked to the Bitcoin blockchain – the digital ledger that verifies and stores every Bitcoin transaction.
The advantage to creating a crypto-token to represent physical gold – Blanchard says each one will always equal the value of one gram of physical gold – is that it is liquid and spendable.
"You can send the digits that represent ownership at the speed of light with the military-grade security of Bitcoin," Blanchard said.
The link to the digital world also means many customers can own pieces of the same gold bar. But Blanchard emphasized that this "fractional" ownership is not hypothecation — the re-selling of the same gold to two or more customers. "This is one-to-one ownership," he said.
Blanchard views HayekCoin as one answer to a "lack of innovation in banking for hundreds of years" and says it represents a better alternative to fiat money printed by governments.
"Currency has outperformed gold as a means of exchange because of convenience," Blanchard said. "But HayekGold eliminates that advantage, allowing individuals worldwide to fundamentally rethink how they use money and protect their assets."
Just how "spendable" HayekGold is remains to be seen, but thanks to AnthemVault, the infrastructure exists. Eventually, Blanchard plans to create a Hayek-based debit card to enable retail spending.
This is how to buy gold not just for the yellow metal's traditional store-of-value benefits, but to gain the ability to spend what you have or send it across borders to a party in another country.
Gold has never had this kind of flexibility before…