How to buy gold has taken a big leap into the digital age, thanks to something called HayekGold.
HayekGold is a way to buy and store physical gold with the security and ease of transfer of the Bitcoin network.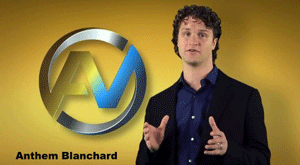 "We're taking the world's most trusted store of value through most of history and coupling it with the world's most innovative method of exchange and ledger of trust," Anthem Hayek Blanchard, the CEO of online precious metals retailer AnthemVault and the mastermind behind HayekGold, told Money Morning.
The HayekGold token is a digital representation of stored physical gold, which resides in a vault in Salt Lake City. AnthemVault sells customers the gold it then stores in the vault.
Each HayekGold "crypto-token" is linked to the Bitcoin blockchain - the digital ledger that verifies and stores every Bitcoin transaction.
The advantage to creating a crypto-token to represent physical gold - Blanchard says each one will always equal the value of one gram of physical gold - is that it is liquid and spendable.
"You can send the digits that represent ownership at the speed of light with the military-grade security of Bitcoin," Blanchard said.
The link to the digital world also means many customers can own pieces of the same gold bar. But Blanchard emphasized that this "fractional" ownership is not hypothecation -- the re-selling of the same gold to two or more customers. "This is one-to-one ownership," he said.
Blanchard views HayekCoin as one answer to a "lack of innovation in banking for hundreds of years" and says it represents a better alternative to fiat money printed by governments.
"Currency has outperformed gold as a means of exchange because of convenience," Blanchard said. "But HayekGold eliminates that advantage, allowing individuals worldwide to fundamentally rethink how they use money and protect their assets."
Just how "spendable" HayekGold is remains to be seen, but thanks to AnthemVault, the infrastructure exists. Eventually, Blanchard plans to create a Hayek-based debit card to enable retail spending.
This is how to buy gold not just for the yellow metal's traditional store-of-value benefits, but to gain the ability to spend what you have or send it across borders to a party in another country.
Gold has never had this kind of flexibility before...
How to Buy Gold That Can Ride the Internet
"Anyone can hold a Hayek if they can access the Internet," Blanchard said. "With us, gold is spendable, lendable, and accessible."
Venture capitalists like Blanchard's innovative take on how to buy gold. At the beginning of June, the AnthemVault announced it had raised $3.2 million to help finance the Memorial Day launch of HayekGold.
Blanchard, 35, seemingly was destined to do something like this. His father, James Blanchard III, was a notorious gold bug whose efforts were key in the legalization of private ownership of gold in 1974.
He also gave his son, Anthem, the middle name of "Hayek" in honor of renowned economist Friedrich Hayek, a major voice in the Austrian school of economics.
Blanchard then went to work for GoldMoney, an online precious metals dealer founded in 2001.
AnthemVault and HayekGold represent a step beyond simply selling precious metals online.
But Blanchard sees HayekGold as more than just a better way to buy gold and own gold. He sees it as refuge from an increasingly vulnerable global financial system.
HayekGold: A Backstop to a Financial Crisis
Blanchard is no fan of the world's central banks or powerful financial institutions.
[epom key="ddec3ef33420ef7c9964a4695c349764" redirect="" sourceid="" imported="false"]
He views HayekGold as a sort of safety net for a host of ills that could befall Too-Big-to-Fail Banks and the financial system in general.
Blanchard believes that foreign hackers directed by hostile governments in places like North Korea, China, Russia, and Iran could cause a major disruption to the global financial system. A successful attack could force a widespread "bank holiday." While the crisis might only last a day or two, it would undermine confidence in the markets.
"Centralized systems are very vulnerable," Blanchard said. "We're being proactive about the fragility in the financial structure that everyone knows exists."
He says HayekGold, based on the much more secure Bitcoin blockchain, would continue to function in such a crisis.
And that's just one scenario in which HayekGold would prove very useful. Its marriage of gold with the blockchain also makes it a great hedge against a hyperinflation event, which isn't as far-fetched as some may believe.
Because the Hayek is based on gold, it could step in and fill a financial void better than Bitcoin, which is limited by its relatively small market cap of $3.57 billion. "Gold has 2,000 times the liquidity of Bitcoin," Blanchard said.
Like many in the growing world of "fintech," Blanchard thinks a digital disruption of the financial industry is at hand.
"This is just the beginning," Blanchard said. "The future of money lies in the power of decentralization."
The Bottom Line: AnthemVault has put a tech-based spin on how to buy gold and put it to practical use. By linking stored gold to the Bitcoin blockchain, the company has made gold spendable and transferable over the Internet.
Follow me on Twitter @DavidGZeiler.
Gold at $13,000? Well-known gold bug Peter Schiff has drawn attention lately for predicting a gold price of $13,000. He's basing that prediction on some pretty gloomy economic forecasts. Is Schiff just fear-mongering, or does his pro-gold argument have merit? Here's what investors need to understand about Schiff's lofty prediction...
About the Author
David Zeiler, Associate Editor for Money Morning at Money Map Press, has been a journalist for more than 35 years, including 18 spent at The Baltimore Sun. He has worked as a writer, editor, and page designer at different times in his career. He's interviewed a number of well-known personalities - ranging from punk rock icon Joey Ramone to Apple Inc. co-founder Steve Wozniak.
Over the course of his journalistic career, Dave has covered many diverse subjects. Since arriving at Money Morning in 2011, he has focused primarily on technology. He's an expert on both Apple and cryptocurrencies. He started writing about Apple for The Sun in the mid-1990s, and had an Apple blog on The Sun's web site from 2007-2009. Dave's been writing about Bitcoin since 2011 - long before most people had even heard of it. He even mined it for a short time.
Dave has a BA in English and Mass Communications from Loyola University Maryland.