Investors considering gold or silver as an investment or hedge need a good handle on the factors driving their prices.
That's where supply, demand, trend, and sentiment data come in.
With global economic and market factors painting no clear picture about the near-term prospects for many investments, many of you might be considering whether it makes sense to add gold or silver to your portfolios.
To help you decide, here's my take on the direction of gold and silver prices in the second half of 2015.
A Look at the Direction of Gold
Gold commands and dominates the precious metals space, so that's where we'll start.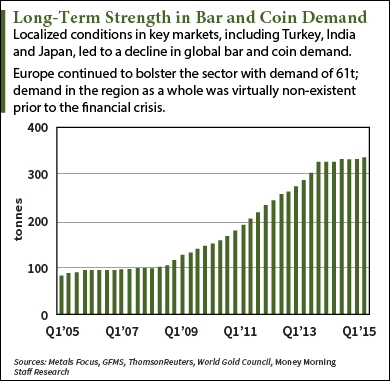 In Q1 global demand was nearly flat, down just 1%, or 11 metric tons, from 2014, according to World Gold Council (WGC) figures.
Jewelry was down slightly by 3% at 600.8 metric tons, but has remained above its five-year average of 570.3 metric tons. Chinese jewelry demand was down 23 metric tons, but India compensated by climbing 27 metric tons. In China's case, it seems a combination of slower GDP growth and strong stock markets combined to dent demand. In the case of India, jewelry demand popped 22% year over year, due mainly to unusually weak buying in Q1 2014.
Investment buying boasted an 11th consecutive Q1 increase, with ETF inflows rising an impressive 4%. The demand for physical bars and coins was 253.1 metric tons, down 28 metric tons from last year, but still relatively strong.
European physical gold demand got a strong 16% boost, thanks likely to Grexit fears and the Ukrainian conflict, while Asian physical demand faded.
Central banks have remained conspicuous net buyers, with the current trend now stretching into 17 consecutive quarters. Russia was the standout, adding more than 30t in Q1.
On the other side of the equation, gold supply was up 2% or 16.7 metric tons. The growth has come from select Asian, North American, and African mines. But the WGC expects that the second half of 2015 will be different, with gold mine production leveling off.
I expect that the effect of the last couple of years of persistently weak prices will finally kick in, causing flat or lower output just as prices are near a bottom.
As for sentiment within commodities, gold ranks as one of the least favored, making for a great contrarian indicator. Essentially, the bulk of investors are close to abandonment levels. Sentiment towards gold stocks is also at extreme lows, and the ratio of the gold price to gold stocks also points to bottoming behavior.
We saw gold prices bounce strongly in January, peaking at $1,300 from $1,140 lows in November. That too fizzled into mid-March as the price reversed, bottoming around $1,150. Since then, it's been a mostly sideways move around the $1,200 level. Technically, the gold price has continued to meander within a channel, roughly between $1,170 and $1,210.
So what might we expect in the second half of 2015?
Join the conversation. Click here to jump to comments…
About the Author
Peter Krauth is the Resource Specialist for Money Map Press and has contributed some of the most popular and highly regarded investing articles on Money Morning. Peter is headquartered in resource-rich Canada, but he travels around the world to dig up the very best profit opportunity, whether it's in gold, silver, oil, coal, or even potash.