The Fitbit IPO hits the market today, June 18. It's one of the most anticipated deals of 2015 so far and is the highest valued tech IPO of the year.
All of the hype begs an obvious question - how does Fitbit make money?
Here's how the wearable tech company stays afloat...
How Does Fitbit Make Money?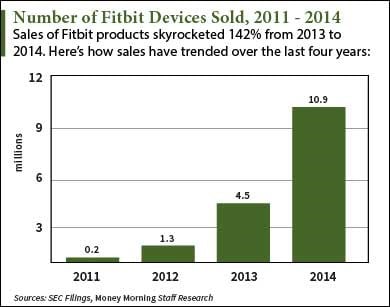 Fitbit Inc. (NYSE: FIT) is one of the few tech companies that has turned a profit before going public.
Fitbit makes money by selling wearable activity trackers of the same name. The devices are used to measure health metrics like calories burned, quality of sleep, and number of steps walked.
The company offers six different models - Zip, One, Flex, Charge, Charge HR, and Surge. The Zip is the cheapest model and sells around $60 while the Surge is the most expensive and costs around $250.
The products sparked controversy early last year when the company had to recall the Fitbit Force. The recall came after roughly 9,900 customers experienced skin irritation and rashes on their arms. According to the Consumer Product Safety Commission, the rashes were caused by allergic reactions to nickel, which is used to assemble the Force. The model is no longer available for sale.
Despite the recall, Fitbit still had a stunning year. Revenue increased 175% from $271.1 million in 2013 to $745.4 million in 2014. There were 10.4 million Fitbits sold last year.
The strong sales have continued in 2015. About 7 million Fitbits were sold in the first quarter alone, adding up to $336.8 million in revenue over the same period.
With all of these strong numbers, the big question is, "Should I buy Fitbit stock?"
Money Morning Defense & Tech Specialist Michael A. Robinson discusses here whether or not you should invest in FIT stock right out of the gate tomorrow...
I will be live tweeting the Fitbit IPO today. Follow me on Twitter at @AlexMcGuire92 for constant updates on FIT stock's debut.