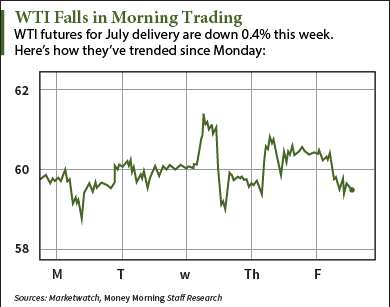 Why WTI crude oil prices are down today: Oil prices fell below $60 a barrel today (Friday) as Greek debt negotiations and a looming deadline in Iran's nuclear deal put pressure on the energy market.
By 1:40 p.m., WTI crude oil prices dropped 2.05% to $59.21 a barrel. The U.S. benchmark is down 0.4% this week and 1.6% this month.
Brent crude oil prices suffered even more. The international benchmark fell 2.34% to $63.47 a barrel. Brent has tumbled 1.8% since Monday and 3.8% since June 1.
Here's a breakdown of why WTI crude oil prices are down today...
Why WTI Crude Oil Prices Are Down Today
Investors are uncertain if there will be a Greek default soon. A default could hurt oil demand across Europe as tension increases regarding Greek Eurozone membership.
"Most of the European oil demand growth this year is coming from the southern countries of Europe," said Olivier Jakob, managing editor of Swiss energy newsletter Petromatrix, to The Wall Street Journal. "Therefore, if there was a Greek default and a contagion of a risk premium to other southern European countries, it could have a negative impact on European oil demand."
Meanwhile, traders are anticipating the June 30 deadline for a potential Iranian nuclear deal. If a deal is reached, it will ease international sanctions against the country and release more Iranian oil into the already oversupplied market.
But according to Money Morning Global Energy Strategist Dr. Kent Moors, the agreement won't last.
And even if it does, it won't affect global oil prices anytime soon...
Why WTI Crude Oil Prices Won't Be Depressed by the Iran Deal
According to Moors, there's little chance the deal will happen.
On March 9, 47 U.S. senators wrote a letter to Iranian leaders disparaging the nuclear deal and explaining how it could be reversed by a future Republican administration "with the stroke of a pen."
Now, Iran is backed against a wall. The nation doesn't know who to trust. That means they have no help getting their oil industry off the ground.
"Even with a deal now, it will take a very long time before that oil gets to the market," Moors explained. "You've got a situation where the Iranian infrastructure is disastrous and it's going to take a while to rebuild."
[epom key="ddec3ef33420ef7c9964a4695c349764" redirect="" sourceid="" imported="false"]
"So you're not going to get the technology; you're not going to get what you need to move oil."
Moors recently sat down for an exclusive interview with Money Morning to tell us about his "ground level" view of the real impact the Iran deal will have on the oil market.
Get the full interview here...
Don't miss any WTI crude oil price updates - follow us on Twitter at @AlexMcGuire92 and @moneymorning.
Like us on Facebook: Money Morning
Related Articles: