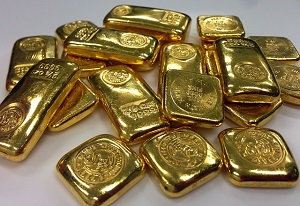 Our gold forecast for the rest of 2015 shows three big factors affecting the direction of the yellow metal.
First, let's look at where gold prices are now. After hitting a four-week high Thursday, the gold price paused in early trading Friday. At last check, the yellow metal was up $0.80 at $1,202.80 an ounce.
After trading as high as $1,207.00 an ounce, gold ended Thursday's U.S. session up $24.50, or 2.08%, at $1,201.40.
Thursday's gain in the gold price put the precious metal back in positive territory for the year. The yellow metal is up 1.5% year to date.
So, what's the longer-term gold forecast?
There are a few factors affecting the rest of the year's gold price forecast. Let's take a look…
2015 Gold Forecast Factors
One thing that will give gold prices a boost is investor flight to safety, thanks to Greece.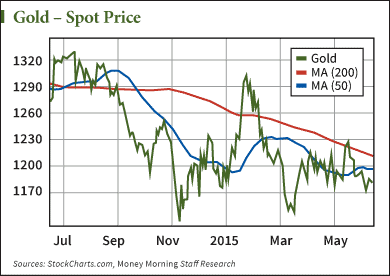 Investors are bulking up on safe-haven gold to guard their wealth against the possibility of a Greek debt default. They also think an ensuing exit from the currency union will destabilize the euro. Gold is widely recognized as an alternative currency. It's also used as a reserve asset by the globe's largest central banks.
And central banks have loved gold lately – another reason we're bullish.
"Central banks have remained conspicuous net buyers (of gold), with the current trend now stretching into 17 consecutive quarters," Money Morning Resource Specialist Peter Krauth notes. "Russia was the standout, adding more than 30 tons in Q1."
Greece met with creditors Thursday. But bailout negotiations are not going well, and the clock is ticking. Eurozone officials said they need significant concessions from Athens to move forward.
"Time is running out as the current aid program for Greece runs out at the end of the month," Commerzbank analysts wrote in a note to clients. "Without further financial aid, there is a real risk of national bankruptcy."
International Monetary Fund chief Christine Lagarde said Thursday Greece would be in default at the start of July if it fails to make a repayment on June 30. There is no grace period or possibility to delay.