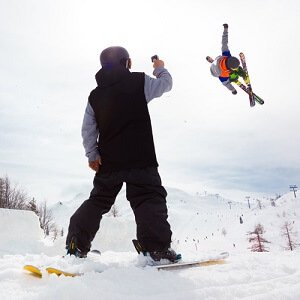 As we track the performance of our 2015 top stocks, one theme has been the unstoppable ascent of Ambarella Inc. (Nasdaq: AMBA) stock.
It was up another 7.3% this week. It has now soared 149.8% on the year.
For any investor who thinks AMBA stock is overheating, the AMBA stock price history suggests otherwise.
When Money Morning Defense & Tech Specialist Michael A. Robinson first recommended AMBA stock in August 2013 as one of the top tech stocks to buy, it was trading at $17.50. It had already tripled since its October 2012 IPO.
He said it would double over the next two years. It took five months.
In January 2014, he said it would double again.
From there until now, it has grown another 325%. It's up 624% since Robinson's first recommendation. AMBA stock has exceeded even our own bullish expectations and continues to grow.
Ambarella specializes in making chips for high-resolution video cameras used in sports broadcasting. It's an "early adopter," Robinson said, and still has plenty of upside even with this unrelenting surge.
"I call this exciting small-cap player the 'video everywhere' company," Robinson said. "Ambarella leads the world in advanced video-compression and image-processing technology."
At Robinson's last recommendation on May 21, he said he sees it doubling in the next 3.2 years. AMBA stock is up 47.4% since that prediction.
At any point in AMBA stock's run, investors could have fled the stock on fears that it was overheating.
But they would have left enormous gains on the table.
And this 150% gain in AMBA stock, which leads our 2015 top stock picks, is just par for the course for this hot stock.
To see our highest-performing 2015 top stock picks, check out the table below...