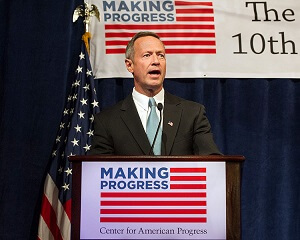 On May 30, 2015, former Maryland governor Martin O'Malley announced his candidacy for the Democratic presidential nomination in 2016.
The progressive icon stands to the left of the poll-leading Democrat Hillary Clinton and has found a niche in painting himself as the populist hero in contrast to Clinton's Wall Street patronage and far-ranging donor pool of "one-percenters."
And to his credit, his donor list squares up a lot more with a progressive agenda than Clinton's does.
His No. 1 donor between 2005 and 2010, according to OpenSecrets.org, was Venable LLP, with individuals from that law firm contributing $58,490. Venable has been lauded for its corporate philanthropy and sits among a list of O'Malley contributors that includes a smattering of labor unions, university donors, and local Maryland businesses.
That's a lot easier to stomach for the progressive voter than Clinton's donor list, which has Citigroup Inc. (NYSE: C) and Goldman Sachs Group Inc. (NYSE: GS) holding the top two spots, as well as JPMorgan Chase & Co. (NYSE: JPM), Morgan Stanley (NYSE: MS), and Credit Suisse Group (NYSE: CS) all in the top 10.
This has given O'Malley his chance.
He wants voters to watch him send a message to the nation's big financial houses, whose predatory banking practices helped throw the U.S. economy into a financial crisis.
"Tell me how it is, that not a single Wall Street CEO was convicted of a crime related to the 2008 economic meltdown. Not. A. Single. One," O'Malley said in his speech announcing his presidential run.
He was particularly fixated on one Wall Street villain.
"Goldman Sachs is one of the biggest repeat-offending investment banks in America," he said.
And he used that to paint his opponents as puppets for the financial elites.
"Recently, the CEO of Goldman Sachs let his employees know that he'd be just fine with either Bush or Clinton," O'Malley said. "I bet he would."
O'Malley's championing of the middle class against the "Wall Street bullies" would be laudable…if it were believable.
You see, O'Malley can stand by a progressive record as governor of Maryland – legalizing same-sex marriage, repealing the death penalty, signing the state DREAM Act into law – but he can't claim to have come down hard on Wall Street.
Martin O'Malley's Wall Street Ties