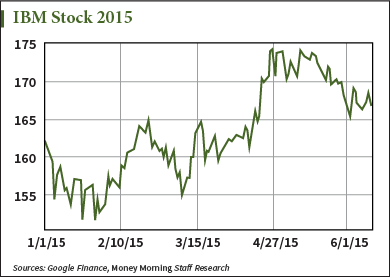 It's been a wild ride for International Business Machines Corp. (NYSE: IBM) stock this year.
Wall Street simply doesn't know what to do with this enterprise solutions giant.
IBM stock has traded as low as $151.55 in late January and as high as $174.40 in late April. And Chief Executive Officer Virginia "Ginni" Rometty has yet to bring IBM stock back to $180, where it was trading before she made a devastating announcement last October that walked back an earnings pledge five years in the works.
Now investors are wondering "should I Buy IBM stock now?" given that it has fallen about 4% in the last month. You may be thinking now is a time to buy it on the cheap.
Before putting in a buy order, however, here's what you need to know about IBM stock...
What to Consider Before You Buy IBM Stock
Why is IBM stock falling right now? There a couple ways to look at that question.
There is general ill will within some investor circles over IBM stock. It goes back to 2013.
That's when IBM lost a bid to handle cloud services for the Central Intelligence Agency to Amazon.com Inc. (Nasdaq: AMZN).
Here was a tech centenarian with a history of delivering unmatched enterprise services to the U.S. government and Fortune 100 companies, losing a cloud contract to a company that's main line of business is online vending. Amazon Web Services (AWS), Amazon's cloud segment, is not well-known among the less sophisticated investors, though it is certainly one of the company's more intriguing offerings.
This was a wake-up call for IBM. It prompted IBM to beef up its cloud offerings with the purchase of SoftLayer in 2013.
But since then, a general malaise has set in on IBM stock. The lost CIA bid has been largely responsible for the more than two-year 20% drop in the IBM stock price.
More recently, IBM stock has been falling for a different reason, though it is still tied to cloud.
You see, on April 23, both Microsoft Corp. (Nasdaq: MSFT) and Amazon reported earnings. Amazon broke out its cloud revenue in its reporting, and both companies, whose earnings presentations centered on their cloud segments, saw their stocks taken over by a buying frenzy.
MSFT stock was up 10.5% after earnings. AMZN stock jumped 14.1%.
While these were two exciting developments for these companies, Wall Street got ahead of itself.
This rally also benefitted IBM stock, which was up 3%. Never mind that IBM reported earnings on April 21- two days before - and its 12th straight quarter of falling revenue sent the stock down 1.1% that day.
Investors simply couldn't get enough of cloud and bought any company that had a segment - regardless of how it operated in the space and whether it had a winning strategy or not.
IBM stock soared as high as $174.40. It has since fallen back down to around $167.
This most recent IBM stock price decline can be attributed to reality setting in. IBM isn't Amazon, and it shouldn't have gotten a boost from the good news at that company when you take into account that Amazon's cloud strategy is vastly different from IBM's.
For solid stocks, this recent pullback would be a time to buy. So is that the case with IBM?
Should I Buy IBM Stock?
No. Not now at least.
We're not saying steer clear because IBM is a lost cause on the cloud front or because it's losing in the space.
If anything, it's losing the cloud battle in areas where it isn't even trying to compete.
The fact that IBM stock got a pick-me-up as a result of Amazon earnings shows that Wall Street doesn't understand IBM's cloud strategy. That's going to ensure the stock is volatile for some time to come as traders try to pinpoint its actual market value.
It's important to understand that IBM isn't trying to follow Amazon's lead on cloud. Amazon has AWS and dominates in one portion of the cloud market - the Infrastructure-as-a-Service (IaaS) component.
Think of IaaS as off-site data centers, handling simple tasks such as file storage. It's the cheaper, more efficient alternative to a server farm.
For startup companies looking to quick data center solutions in the cloud, AWS is a perfect fit. And this model has helped AWS hold a dominating position in the space, at a 28% market share to IBM's 7%.
But IaaS is but one part of a complex market.
SoftLayer, IBM's chief IaaS product, is a part of the IBM cloud strategy but is not its centerpiece. Amazon and Google Inc. (Nasdaq: GOOG, GOOGL) have been fighting a price war for some time in IaaS and have all but commoditized it.
Now, margins have been driven down so much at a time when IBM has been selling off low-margin businesses lately as part of a high-value strategy. IBM has no interest in letting its margins in cloud be crushed by an ill-fated attempt to dominate IaaS.
Instead, IBM is more concerned with leveraging its Fortune 100 clients - the big banks and the utility companies, for example - and helping them move their traditional systems and applications into a new age of unlimited information.
[epom key="ddec3ef33420ef7c9964a4695c349764" redirect="" sourceid="" imported="false"]
The outgrowth of cloud, Big Data analytics, and the Internet of Things has made the amount of data in the information ecosystem almost limitless. Whereas traditional enterprise applications that big companies operate haven't been tailored to handle the growth of data, IBM is helping them to retool.
Their strategy is built on empowering application developers in the Platform-as-a-Service (PaaS) market. This is still a high-value opportunity for IBM, unlike in IaaS.
So while a startup simply looking for a solution will go to Amazon, a big bank looking to create a mobile banking app, for example, will go to IBM. IBM can help them transform their applications and systems to incorporate new technology.
No one knows where PaaS is headed. And because Wall Street has it completely backwards on cloud right now, the IBM stock price could still be driven down further.
Money Morning Defense & Tech Specialist Michael A. Robinson said to stay away from IBM stock unless it falls back to between $145 and $150 a share.
When that happens, you can stash it away as a long-term buy and hold.
Bottom Line: Wall Street's cloud confusion - misinterpreting good news for Amazon as good news for IBM - proves that investors don't yet know where cloud is headed and where to put their money. IBM will continue to see revenue fall and they won't see cloud riches for some time until their PaaS strategy matures. And until then, IBM stock will still be subject to downside. Wait until you can be sure IBM has made its presence felt in this young market or for IBM stock to fall to bargain territory before buying IBM stock.
Jim Bach is an Associate Editor at Money Morning. You can follow him on Twitter @JimBach22.
Looking for Tech Stocks to Buy Now? Tech and electronics retail is an industry ripe with defects. Shoddy products and even shoddier customer service tell a much more tragic story about the decline of this industry. This is why now more than ever, these two tech stocks are poised to gain from the rest of the industry's failures...