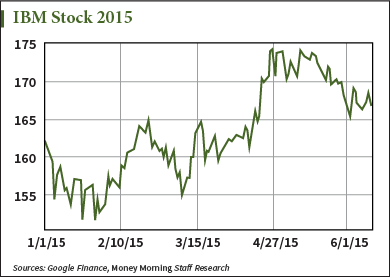 It's been a wild ride for International Business Machines Corp. (NYSE: IBM) stock this year.
Wall Street simply doesn't know what to do with this enterprise solutions giant.
IBM stock has traded as low as $151.55 in late January and as high as $174.40 in late April. And Chief Executive Officer Virginia "Ginni" Rometty has yet to bring IBM stock back to $180, where it was trading before she made a devastating announcement last October that walked back an earnings pledge five years in the works.
Now investors are wondering "should I Buy IBM stock now?" given that it has fallen about 4% in the last month. You may be thinking now is a time to buy it on the cheap.
Before putting in a buy order, however, here's what you need to know about IBM stock...
What to Consider Before You Buy IBM Stock
Why is IBM stock falling right now? There a couple ways to look at that question.
There is general ill will within some investor circles over IBM stock. It goes back to 2013.
That's when IBM lost a bid to handle cloud services for the Central Intelligence Agency to Amazon.com Inc. (Nasdaq: AMZN).
Here was a tech centenarian with a history of delivering unmatched enterprise services to the U.S. government and Fortune 100 companies, losing a cloud contract to a company that's main line of business is online vending. Amazon Web Services (AWS), Amazon's cloud segment, is not well-known among the less sophisticated investors, though it is certainly one of the company's more intriguing offerings.
This was a wake-up call for IBM. It prompted IBM to beef up its cloud offerings with the purchase of SoftLayer in 2013.
But since then, a general malaise has set in on IBM stock. The lost CIA bid has been largely responsible for the more than two-year 20% drop in the IBM stock price.
More recently, IBM stock has been falling for a different reason, though it is still tied to cloud.
You see, on April 23, both Microsoft Corp. (Nasdaq: MSFT) and Amazon reported earnings. Amazon broke out its cloud revenue in its reporting, and both companies, whose earnings presentations centered on their cloud segments, saw their stocks taken over by a buying frenzy.
MSFT stock was up 10.5% after earnings. AMZN stock jumped 14.1%.
While these were two exciting developments for these companies, Wall Street got ahead of itself.
This rally also benefitted IBM stock, which was up 3%. Never mind that IBM reported earnings on April 21- two days before - and its 12th straight quarter of falling revenue sent the stock down 1.1% that day.
Investors simply couldn't get enough of cloud and bought any company that had a segment - regardless of how it operated in the space and whether it had a winning strategy or not.
IBM stock soared as high as $174.40. It has since fallen back down to around $167.
This most recent IBM stock price decline can be attributed to reality setting in. IBM isn't Amazon, and it shouldn't have gotten a boost from the good news at that company when you take into account that Amazon's cloud strategy is vastly different from IBM's.
For solid stocks, this recent pullback would be a time to buy. So is that the case with IBM?