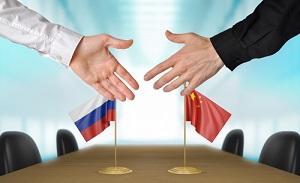 In the early 20th century, Jacob Schiff of investment house Kuhn, Loeb & Co. in New York asked his London associate Sir Ernest Cassel how to ensure the Dominican Republic wouldn't renege on its debts.
Cassel's response: "Your marines and ours."
This conversation highlights the worrying relationship between U.S. bankers and international financiers with the U.S. government and military. It was one of many instances explored in author Ron Chernow's history of J.P. Morgan.
And while these stories may seem like apocryphal retellings of darker episodes in U.S. financial history, one characterized by predatory trusts and robber barons, we haven't changed much since.
The dollar is a weapon. One that is backed by U.S. military might.
That has been shown to be the case throughout U.S. military history with Iraq, Iran, Russia, and any other number of U.S. adversaries that the U.S. Treasury seeks to cripple by shutting them out of international markets and financing.
But the U.S.'s financial foes aren't taking it anymore.
They want to bring an end to this financial weaponization of the dollar.
And in doing so, they are going to do whatever it takes to both diminish the dollar's role as a reserve currency and introduce a new international payments system to settle global transactions...
Countries Team Up to Take Down the U.S. Dollar
You see, when the dollar reigns supreme, countries like China and Russia unwittingly find themselves paying for U.S. military expansion.
Russia and China receive payments for their goods in dollars when they export to the United States. They can either choose to let those foreign currency reserves sit at their account at the U.S. Federal Reserve, or they can buy U.S. Treasury bonds, which are denominated in U.S. dollars, and earn some interest. And with rates as low as they are, even those returns are becoming paltry.
And what do these countries get for financing the U.S. deficits?