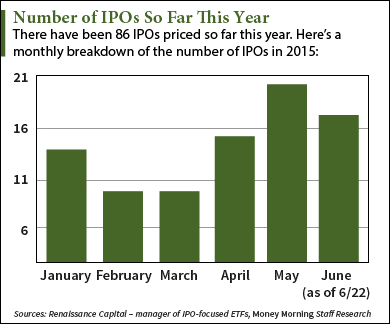 There are 16 companies on this week's upcoming IPO calendar. According to Renaissance Capital, a manager of IPO-focused ETFs, they're expected to raise a combined $2.49 billion.
This should be the IPO market's most active week of 2015. Previously, the busiest was the week of Jan. 26, which saw 10 IPOs.
This week's high IPO total comes at a time when the IPO market is heating up.
The Fitbit IPO raised $732 million last Thursday, becoming the fourth-largest IPO of the year by proceeds and second-largest by valuation. Brazilian steakhouse chain Fogo de Chão Inc. (Nasdaq: FOGO) raised $88 million and gained 29% on its June 18 debut.
Leading the upcoming IPO calendar this week is TransUnion (NYSE: TRU). The credit bureau behemoth is the largest deal and makes up 26% of this week's proceeds.
Here are all 16 IPOs on this week's upcoming IPO calendar…
Upcoming IPO Calendar for the Week of June 22
TransUnion (NYSE: TRU) will be the last of the three major credit bureaus to go public, behind Equifax Inc. (NYSE: EFX) and Experian Plc. (LON: EXPN). The Chicago-based company offers consumer credit services in 33 countries and has accounts with around 500 million customers. Its sales grew more than 15% in the first quarter to $350 million as the number of credit reports surged. Unlike its competitors, TransUnion doesn't plan on paying a dividend. TRU is set for a $650 million deal and will sell 29.55 million shares at a $21 to $23 price range. It has a $3.9 billion market valuation and will begin trading on Thursday, June 25.
Milacron Holdings Corp. (NYSE: MCRN) is the largest manufacturer of plastic processing equipment in the United States. The company primarily produces equipment used for injection molding, blow molding, and extrusion. Milacron previously filed for Chapter 11 bankruptcy in March 2009. But the company has seen immense success since then, with sales soaring from $572 million in 2012 to $1.2 billion in 2014. It plans on raising $300 million by offering 14.29 million shares at a price range of $20 to $22. The company is valued at $1.5 billion and will hit the market on Thursday, June 25.
Here are the 14 other deals on this week's upcoming IPO calendar…