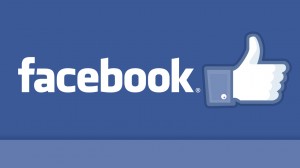 Thanks to a robust FB stock rally Monday, Facebook Inc. (Nasdaq: FB) bumped Wal-Mart Stores Inc. (NYSE: WMT) out of the 10 companies by market cap.
Shares of the social media giant jumped $2.23, or 2.27%, to finish Monday's session at $84.74. That gave FB a market cap of around $236 billion. WMT shares, meanwhile, slipped 0.01% to $72.78. That marked a 20-month low and left WMT with a market cap of around $234 billion.
According to S&P Dow Jones Indices, Wal-Mart hasn't finished a year outside the top S&P 500 companies by market cap since 1997. Eighteen years ago, Wal-Mart became a part of the elite club by knocking out tech titan International Business Machines Corp. (NYSE: IBM), which at the time sported a market cap of $102 billion.
Facebook's latest feat is indeed impressive. WMT is an iconic American company and gigantic global brand. It's also a behemoth by size and revenue.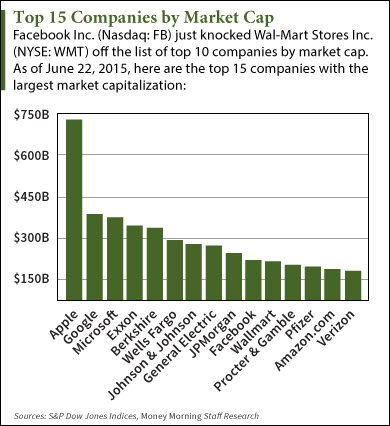 For its fiscal year ended Jan. 31, WMT booked sales of $482.2 billion. Last year, Wal-Mart ranked first on the 2014 Fortune 500 list of the world's largest companies by revenue. Founded in 1945, WMT has more than 11,400 retail units peppered across 27 countries and e-commerce websites in 11 countries. Employing 2.2 million associates globally, 1.3 million in the United States, WMT is one of the largest private employers in North America.
In comparison, FB is still a young company.
Founded in 2004, FB debuted as a public company on May 18, 2012. It was one of the biggest IPOs in technology and Internet history. At the time, FB boasted a market cap of more than $104 billion. However, shares tumbled as soon as the stock opened. Over the next several months, FB's stock price swooned more than 50%.
Three years later, Facebook is not simply the world's largest social networking site. FB is also a leader in tech, mobile, advertising, and virtual reality.
Facebook has a monthly active user base of 1.44 billion. It has also amassed 1.25 billion monthly active mobile users. In Q1 2015, FB recorded $3.54 billion in revenue. Mobile advertising revenue represented roughly 73% of its ad revenue, up from 59% year over year.
For FY2015, Facebook's share of the global mobile ad market is estimated at 30%, according to eMarketer.
What's Next for Facebook (Nasdaq: FB)
Tuesday, at the Cannes Lions advertising festival, FB unveiled this new mobile format that is still in the testing stage…