For June 23, 2015, here's what the stock market did today, including closing numbers for the Dow Jones Industrial Average, S&P 500, Nasdaq, the top stock market news, and stocks to watch…
Stock Market's Final Numbers   
Dow Jones: 18,144.07; +24.29; +0.13%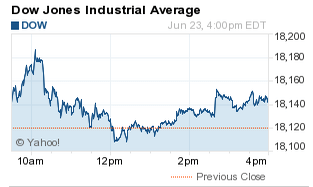 S&P 500: 2,124.20; +1.35; +0.06%
Nasdaq: 5,160.10; +6.12; +0.12%   
The DJIA today added 24 points. The markets reversed early losses after Federal Reserve Governor Jerome Powell said today that the U.S. economy may be prepared for two interest-rate hikes in 2015.
Today, the Nasdaq Composite Index finished at a new record close, while the S&P 500 is now a few points off from its all-time record.
The S&P 500 Volatility Index (VIX), the market's fear gauge, slipped 4.9% today.
Top Stock Market News Today
Stocks to Watch: GDOT, WMT, SONC, GOOG, AAPL, FIT, BBRY
Stay informed on what's going on in the markets by following us on Twitter @moneymorning
Investors: Learn How to Put an Extra $125,000 in Your Pocket