In Japan, stock market euphoria has taken hold.
The Nikkei 225, the leading Japan stock market indicator comprised of 225 Japanese stocks, has already doubled since Prime Minister Shinzo Abe was elected into office in December 2012 and brought with him an aggressive regiment of monetary and fiscal stimulus.
Abe has employed "Abenomics," a multi-pronged effort to reverse two decades of deflationary economic trends.
But inflation has come in fits and starts. And recent Japanese history shows that the problems are firmly entrenched. They haven't by any measure been brought on by a lack of stimulative policy.
The reality of the Japanese economy is much bleaker than the roaring Japanese stock market would have you believe.
Here are four charts that show Japan's current crisis - the one Japan's stock market rally is hiding...
Proof the Japan Stock Market Is Overheated, No. 1: Historical Nikkei 225
Sign up for SMS so you never miss special events, exclusive offers, and weekly bonus trades.
A historical look at the Nikkei 225 shows that even with this two-and-a-half year bull market, Japan still has yet to re-establish the highs it reached in 1989. In fact, it's still down close to 50%.
I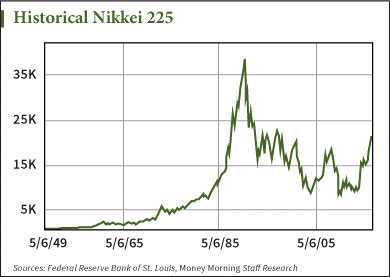 n the long-term picture, this recent "bull market" looks more like an aberration in what really is a 20-year bear market.
It also shows that the Japanese stock market is highly bubble-prone.
Even if Japan does make a march back to 39,000 - where it was in the 1980s - this is not the Japan of the 1980s.
"Japan can never, ever ascend to the glory that it enjoyed in the 80s," Money Morning Chief Investment Strategist Keith Fitz-Gerald said in April. "Japanese businessmen that I talk to are a lost generation. There are very few of them that actually know how they're going to grow their way out of this."
And that can be attributed to this next crisis in Japan.
Proof the Japan Stock Market Is Overheated, No. 2: Working Age Population
Japan's aging population is hampering productivity through a labor shortage and holding consumption down.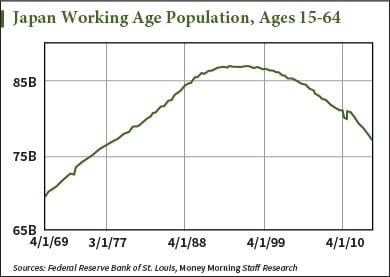 As Fitz-Gerald said, "they've got the worst demographics on the planet."
Stimulative monetary policy simply can't fill the void that the Japanese demographic crisis has created.
In 2014, Japan ranked 208th of 224 countries in fertility rate. The current rate is 1.4 births per woman, according to data from the Central Intelligence Agency.
"Wages are rising slower than the cost of living, which is compounding matters," Fitz-Gerald added.
As long as the working population is shrinking, as are wages, consumption is going to continue to suffer.
And the next chart shows that all of this is still the case despite the Bank of Japan throwing every policy tool it can at this crisis.