Of all the ways how to buy bitcoins, cloud mining may be the most unusual.
With Bitcoin cloud mining, you don't buy bitcoins or the actual hardware used to "mine" it.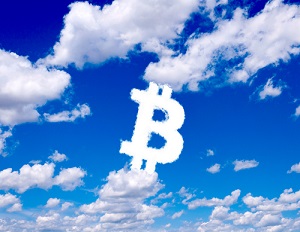 You buy a contract for a certain amount of mining power, known as "hashing power," for a certain period of time. You then earn a portion of bitcoin every day for the duration of the contract.
This is a twist on conventional Bitcoin mining (see sidebar). Today Bitcoin mining involves the purchase of one or more dedicated mining machines (essentially computers designed specifically to mine Bitcoin). Small-time miners run their machines in their homes, but large operators will have many mining rigs running in their own building or buildings.
That's where Bitcoin cloud mining enters the picture. A few of the large operators sell a portion of their massive hashing power to folks who like the idea of mining Bitcoin but would rather not buy and run the rigs themselves. (The rigs consume a lot of electricity and generate a lot of heat. Plus, to get a decent return, they need to run 24/7.)
Many people just learning about Bitcoin (a January Coin Center study showed 65% of the U.S. population had never heard of it) become fascinated by the mining aspect of it. You can actually create money with a computer!
That was one of my first thoughts when I discovered Bitcoin in 2011. Back then the difficulty was low enough that you could mine Bitcoin on a personal computer.
Why People Mine Bitcoins
I invested $300 in a graphics card – the mining rig of its day – and managed to generate about 20 bitcoins in six months before the card burned out. The Bitcoin price slumped to under $5 in the meantime, so my mining experiment looked like a big money loser at the time. (Luckily I kept my bitcoins.)
Mining today is no less risky. Even cloud mining is an unusually involved and time-consuming way of how to buy bitcoins.
Yet Bitcoin mining has a certain romantic appeal, particularly for those who love tech. And many Bitcoin fans also like the idea of being an active participant in the network that supports the digital currency.
So here's how it works – and a look at the pros and cons…