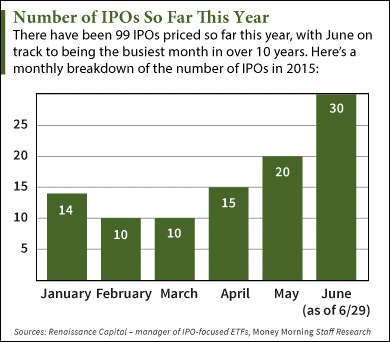 There are seven new IPOs this week expected to hit the market. The seven upcoming IPOs will raise up to $809 million during this shortened holiday week.
Last week, 13 companies went public, more than any week since last October. According to Renaissance Capital, a manager of IPO-focused ETFs, this June will become the busiest month for IPOs in over a decade with more than 30 deals.
Leading this week's IPO calendar is LoanCore Realty Trust Inc. (NYSE: LCRT).
LoanCore is a commercial mortgage real estate investment trust (REIT) based in Connecticut. The REIT primarily invests in and manages commercial mortgage loans and real estate assets. It's backed by Jefferies Group LLC and the Government of Singapore Investment Corp. (GIC).
Founded in 2013, LoanCore posted $7 million in sales from March 2014 to March 2015. The company plans to use its IPO proceeds to add more commercial mortgages to its portfolio. It's set to raise $300 million by selling 15 million shares for $20 each. LCRT is valued at $505 million and will begin trading on Wednesday, July 1.
Here are six more new IPOs this week on the upcoming IPO calendar…
6 More New IPOs This Week
ConforMIS Inc. (Nasdaq: CFMS) is a Massachusetts-based company that sells fully customizable knee replacement implants. Manufactured with 3D printing, the implants areused for all stages of knee osteoarthritis. The firm posted $15 million in sales in Q1, which is a 36% increase from the year-ago period. Despite strong sales, ConforMIS has accumulated a $280 million deficit and remains unprofitable in the near term as it goes up against giant competitors like Stryker Corp. (NYSE: SYK) and Zimmer Biomet Holdings Inc. (NYSE: ZBH). CFMS will raise $135 million by offering 9 million shares at a $14 to $16 price range. The company has a $644 million valuation and will hit the market on Wednesday, July 1.
Money Morning Members: Continue reading for five more new IPOs this week. For those new to Money Morning, sign up to keep reading – it's completely free…