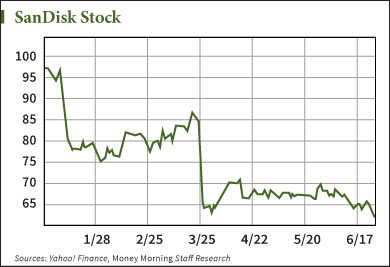 The story of SanDisk Corp. (Nasdaq: SNDK) stock in 2015 is an unfortunate one. But SanDisk is still a great company dominating a highly important and growing market.
SanDisk is the No. 1 supplier of flash memory in the global supply chain.
It's best known as the supplier of flash memory for Samsung Electronics Co. Ltd.'s (OTCMKTS: SSNLF) smartphones, but SanDisk's products are also found in laptops and all sorts of other consumer and corporate electronics.
"There's almost no consumer product out there - that needs flash memory - that isn't using SanDisk," Money Morning Defense & Tech Specialist Michael A. Robinson said. "They've been a huge part of a mobile revolution that really gained a lot of steam in 2007 with the release of the first iPhone."
In 2014, Wall Street recognized just how exciting SNDK stock is.
By July of last year, SNDK stock was up 53% in 2014 and trading at $107.83.
It has since collapsed over the last year. It has fallen 43% and erased all of its gains it made in 2014 - and then some. It closed Friday at $62.12 and today (Monday) continues to decline.
One thing that hurt SanDisk stock was weakening smartphone sales for Samsung. And SanDisk has continuously been revising guidance down over the last year, further souring investors on SNDK stock.
But mostly what's contributing to the SNDK stock price decline is a general misunderstanding of where the market for flash and computer memory is headed.
"Globally, there's a lot of confusion about what's happening in computer memories," Robinson said. "In the past, memory has been seen as a commoditized business. That's really changed dramatically in the last two or three years. But as we've seen a lot this year and over the last 18 months, Wall Street just overreacts at the slightest sign of trouble."
It's a similar story for Micron Technology Inc. (Nasdaq: MU), another player in the space. MU stock was up 67.8% in 2014. Since peaking at $36.49 on Dec. 5, 2014, it has fallen 46.1%.
Now investors need to know - can this SNDK plunge be reversed? Is SanDisk stock a buy, sell, or hold?
Here's how you should look at SNDK stock right now...
How to Play SNDK Stock Right Now