A PayPal stock spin-off date is just weeks away, with PayPal (Nasdaq: PYPL) stock set to begin trading on the Nasdaq on Monday, July 20.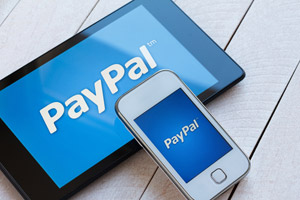 EBay Inc. (Nasdaq: EBAY) officials had announced plans for the PayPal spin-off in September 2014. But board members hadn't formally announced the approval until last Friday.
Through the PayPal spin-off, eBay stockholders as of July 8 will receive one share of PayPal stock for every share of eBay stock they own.
After the split, eBay will focus solely on e-commerce, while PayPal will remain focused on digital payments.
The two companies have a five-year contract in place that assures dependable income for PayPal following the split. eBay initially purchased PayPal for $1.5 billion back in 2002.
"eBay and PayPal are two great, special businesses," eBay President and CEO John Donahoe said in a statement. "As separate, independent companies, eBay, led by Devin Wenig, and PayPal, led by Dan Schulman, will each have a sharper focus and greater flexibility to pursue future success in their respective global commerce and payments markets."
eBay's biggest goal now is growing its user base. The platform has 25 million sellers and more than 157 million active buyers. Shoppers can browse roughly 800 million live listings at any time, according to company officials. The company had revenue of $8.8 billion in 2014.
PayPal had more than 165 million active accounts and processed more than $235 billion in payments in 2014. It had revenue of $8 billion in 2014.
While they have similar revenue figures, these companies are moving in two very different directions - which is why a PayPal stock spin-off makes sense...
How to Invest Following the PayPal Stock Spin-Off
In 2015, EBAY stock has climbed 7.7%, compared to a loss of 0.8% for the Dow Jones in the same time.
[epom key="ddec3ef33420ef7c9964a4695c349764" redirect="" sourceid="" imported="false"]
And while it has outperformed the market, EBAY stock will be much less desirable following the spin-off. The more enticing profit opportunity is with PayPal stock.
PayPal has been eBay's fastest-growing division. In Q1 2015, PayPal grew revenue by 16%. The Marketplaces division, which eBay will retain following the PayPal spin-off, saw sales dip 7% in the first quarter.
Q1 was also the first time that PayPal had higher revenue than Marketplaces. PayPal's revenue was $2.11 billion in the quarter compared to $2.07 for Marketplaces.
While the two companies will still work together, PayPal is free to form partnerships with other major e-commerce platform.
Alibaba Group Holding Ltd. (NYSE: BABA) is the most likely partner for PayPal. It already has its own payment service, Alipay, but a partnership makes sense as Alibaba attempts to bring its brand west.
Analysts at JPMorgan Chase & Co. (NYSE: JPM) expect PYPL stock to trade near $36 per share after the PayPal spin-off with a market cap of $44 billion. They project $29 per share for EBAY stock and a market cap of $33 billion.
PYPL should be volatile following the PayPal stock spin-off on July 20 as new investors enter the stock. We recommend waiting several quarters to invest in PayPal stock to avoid this volatility. That will also give investors time to digest several earnings reports and see how the firm is doing on its own.
The Bottom Line: The PayPal stock spin-off is just weeks away, and PYPL will hit the market on July 20. When it comes to investing in EBAY stock or PYPL stock, PayPal is the better choice. The company's revenue is growing and will make a good business partner with other e-commerce platforms. Expect PayPal stock to be volatile when it first hits the market.
Follow us on Twitter @KyleAndersonMM and @moneymorning.
Like us on Facebook: Money Morning.
Profit Alert: Since Money Morning Executive Editor Bill Patalon launched his Private Briefing program just a few short years ago, he's recommended 192 stocks that have either doubled or tripled in value. The service has completely revolutionized the way people invest. Keep reading to find out more about his extensive research and premium stock picks...