A PayPal stock spin-off date is just weeks away, with PayPal (Nasdaq: PYPL) stock set to begin trading on the Nasdaq on Monday, July 20.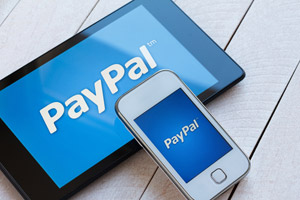 EBay Inc. (Nasdaq: EBAY) officials had announced plans for the PayPal spin-off in September 2014. But board members hadn't formally announced the approval until last Friday.
Through the PayPal spin-off, eBay stockholders as of July 8 will receive one share of PayPal stock for every share of eBay stock they own.
After the split, eBay will focus solely on e-commerce, while PayPal will remain focused on digital payments.
The two companies have a five-year contract in place that assures dependable income for PayPal following the split. eBay initially purchased PayPal for $1.5 billion back in 2002.
"eBay and PayPal are two great, special businesses," eBay President and CEO John Donahoe said in a statement. "As separate, independent companies, eBay, led by Devin Wenig, and PayPal, led by Dan Schulman, will each have a sharper focus and greater flexibility to pursue future success in their respective global commerce and payments markets."
eBay's biggest goal now is growing its user base. The platform has 25 million sellers and more than 157 million active buyers. Shoppers can browse roughly 800 million live listings at any time, according to company officials. The company had revenue of $8.8 billion in 2014.
PayPal had more than 165 million active accounts and processed more than $235 billion in payments in 2014. It had revenue of $8 billion in 2014.
While they have similar revenue figures, these companies are moving in two very different directions - which is why a PayPal stock spin-off makes sense...
How to Invest Following the PayPal Stock Spin-Off