Over the past week, the Bitcoin price has made its strongest move to the upside in three months – a move that took place just as the Greek debt crisis escalated.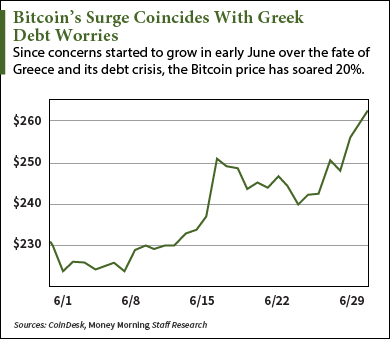 The price of Bitcoin has jumped from a low of $240.22 on June 24 (according to CoinDesk data) to as high as $268.23 earlier today (Tuesday). That's a pop of 11.66% in one week.
Over the past month, the Bitcoin price is up an impressive 20%.
Meanwhile, concerns that the Greek debt crisis was reaching a critical moment have been building for weeks. Those fears were realized Sunday when the Greek government imposed capital controls and closed the Greek stock market.
A financial crisis like this is exactly why Bitcoin was created. Decentralized and beyond the control of governments, the digital currency is a safe-haven investment akin to gold.
This is why many have drawn a line between the spike in the Bitcoin price and the Greek debt crisis. But is there really a connection?
Could Worried Greeks Have Driven Up the Bitcoin Price?
According to CNNMoney, the world's largest Bitcoin exchanges were seeing big increases in customers from Greece.
Bitstamp, the world's third-largest exchange, said trades from Greece were up 79% over their 10-week average. The Germany-based Bitcoin.de said it had seen a tenfold increase in Greeks registering on its exchange. And Chinese exchange LakeBTC reported a 40% increase in visitors from Greece.
Other news outlets published similar reports.
"I don't think it could be for any other reason," Brendan O'Connor, CEO of digital currency-specialists Genesis Global Trading, told CNBC.
But skeptics point out that Greece is a relatively tiny portion of the overall Bitcoin market. Any increase in Bitcoin buying there wouldn't be likely to move the global Bitcoin price all that much.
And the most recent surge in the Bitcoin price is even less likely to have its roots in Greece. With capital controls in place, most Greeks don't have access to their money to buy Bitcoin.
What's more, Greece lags behind many other places in Bitcoin adoption. The country has just one Bitcoin ATM, and only about half a dozen merchants in Athens accept Bitcoin as payment.
But even if the Greeks themselves aren't responsible for the sudden rise in the Bitcoin price, it doesn't mean the Greek debt crisis isn't driving it…
The Real Reason Why the Bitcoin Price Is Rising