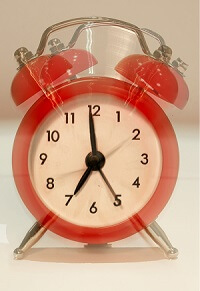 As if stock markets don't have enough to worry about...
In addition to Greece's banking problems likely leading to a Eurozone exit, Puerto Rico facing a historic $72 billion default, and China's stock market in bubble territory, the latest worry is the leap second.
What is a leap second exactly?
A leap second is an event that occurs every few years when the standard time around the world is adjusted by one second to account for a very slight mismatch between clocks and the Earth's rotation. Leap seconds have been used since 1972. Twenty-five such occurrences had transpired over the last 43 years.
If leap seconds weren't used, Coordinated Universal Time would gradually drift from mean solar time. As a result, sunrise would happen much later in the day as clocks would no longer correspond to the Earth's position relative to the sun.
Today's leap second is the first to occur during active stock market trading hours since markets went digital with the launch of the Nasdaq in 1971.
And a leap second could cause much market mayhem...
The last leap second on June 30, 2012, resulted in several notable glitches. Australian airline Qantas saw its booking system disrupted for more than two hours. A number of high-profile sites, including Reddit and LinkedIn, also encountered problems.
With today's lightning-quick trading, thanks to souped-up computer systems, high-frequency traders, and algorithm-driven trading, the leap second has the potential to wreak havoc if computer systems aren't prepared.
Exchanges, regulators, firms, and traders the world over will be watching closely today (Tuesday) at 8 p.m. EDT, or midnight Coordinated Universal Time/Greenwich Mean Time, for any disruptions as one second is added to clocks. At that time, after-hours markets in the United States are typically still open for trading, and key Asian markets are just starting their daily sessions.
If systems aren't prepared to accommodate the extra second, failures, unreliable time stamps, or total breakdown are possible, according to The Wall Street Journal.
U.S. exchanges have plans in place to dodge potential leap second glitches with an early close or delayed late open. Chicago Mercantile Exchange (NYSE: CME) and Intercontinental Exchange Inc. (NYSE: ICE) will delay several electronic evening sessions until after 8 p.m. EDT. The NYSE Arca exchange, Nasdaq OMX Group Inc. (Nasdaq: NDAQ), and BATS Global Markets will close after-hours sessions 30 minutes before the regular 8 p.m. close.
The London Metal Exchange, the only European market open during the leap second, will delay its open by 15 minutes.
[epom key="ddec3ef33420ef7c9964a4695c349764" redirect="" sourceid="" imported="false"]
In Australia and Asia, clocks have been recalibrated in advance. The Japanese stock exchange, meanwhile, will slow clocks for two hours beforehand so the exchange will be synchronized when the leap occurs.
In Brazil, the BM&F index adjusted its clocks outside of trading hours on Sunday, June 28. That means the struggling South American country, which could certainly use some kind of leg up, is now technically one second ahead of the rest of the world.
Most industry experts expect the leap second to pass uneventfully. Stay tuned...
Stay informed on what's going on in the markets by following us on Twitter @moneymorning.
Investors: Learn How to Put an Extra $125,000 in Your Pocket
Related Articles: