There's a new Internet service provider in town, and it's almost assuredly faster and cheaper than the plan you are currently paying for.
Google Inc.'s (Nasdaq: GOOG, GOOGL) Google Fiber is already available in Austin, Texas; Provo, Utah; and Kansas City, Mo. And it's about to expand to five more cities: Atlanta, Ga.; Nashville, Tenn.; Salt Lake City, Utah; and Charlotte and Raleigh-Durham, N.C.
But exactly what is Google Fiber -- and why is it shaking up the entire ISP industry?
Let's take a look...
What Is Google Fiber: The Basics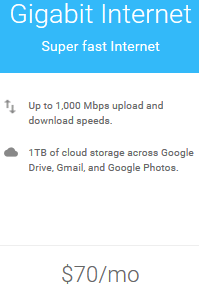 Google began rolling out high-performance optic cables -- the "Fiber" -- in U.S. cities starting in 2011. The Fiber provides broadband Internet and cable television. And it's really fast...
For roughly $70 a month, customers get Internet connection speeds up to 1,000 megabits (one gigabit) per second. That's as much as 100 times faster than other ISP service providers. It also includes a wireless connection. There are no limits on the amount of data users can send or receive.
Customers who pay $120 for the package deal also get high-definition TV service and a DVR. The DVR can record up to eight shows at once and has two terabytes of storage -- which equates to up to 500 hours of television.
In November 2014, Google expanded its ISP service beyond residential to commercial.
Three years after Kansas City beat out 1,100 cities across the nation to become the first
American "fiberhood," it was the first to receive "Google Fiber for Small Business."
For $100 a month, companies get one gigabit upload and download speeds, Wi-Fi, dedicated support, firewall protection, and more.
Now that Google Fiber has
been around four years for lucky residential customers (and a little under a year for commercial customers), let's take a look at the service's track record to see if we can truly call these recipients "lucky"...
What Is Google Fiber: The Reviews
On the non-commercial side, reviews of Google Fiber are overwhelmingly positive.
According to a May 2014 survey by Bernstein Research, residential Fiber users were satisfied with the service. Most customers said they'd recommend Google Fiber to others and would not switch back to their old ISPs -- even if those companies matched Fiber's higher speed and lower price point.
"Google is clearly trying to offer something different," Bernstein said in its report. "Google will deploy multiple Wi-Fi-enabled boxes in the home, trying to achieve better in-home coverage and throughput. While we think it is extremely hard to differentiate the linear TV content offer due to restrictions imposed by content licensing agreements, Google is trying and will continue to try to differentiate the feature set of its video offer." The Wall Street research firm has rated Google "Outperform," its highest rating, at a target price of $1,000.
And the commercial numbers speak for themselves...