It's a great time to buy a top Nasdaq stock, and we have two that look especially outstanding...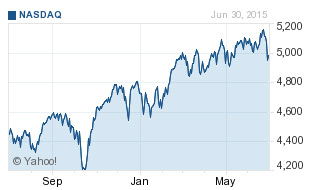 The Nasdaq is up 5.3% in 2015. This year the tech-centric index hit highs not seen since the dot-com heyday of 2000, ending Q2 2015 up 1.8%. That marked the Nasdaq's 10th straight quarterly rise.
Meanwhile, the Dow and S&P 500 Index finished the second quarter of 2015 with ho-hum results. The 30-stock benchmark ended Q2 with a 0.9% loss. The broad-based S&P ended with a 0.2% decline.
Even with the Nasdaq hitting an all-time high, there are still some lucrative opportunities and quality stocks to buy.
Here are two Nasdaq stocks to buy now that stand out among the roughly 3,100 stocks trading on the Nasdaq today. One is a well-known tech titan. The other is an instrumental biotech player.
A Nasdaq Stock to Buy Now
Best Nasdaq Stock to Buy Now, No. 1: Apple Inc. (Nasdaq: AAPL) shares are up 14.2% in 2015.
Shares of the iPhone maker got an upward push recently after the company reversed an earlier decision and will now pay artists during its three-month free trial period of Apple Music. Widely popular pop star Taylor Swift had called Apple's decision not to pay musicians any royalties during the trial "shocking, disappointing, completely unlike this historically progressive and generous company."
Progressive, indeed.
Money Morning Defense & Tech Specialist Michael A. Robinson is excited about the new Apple Watch. He says the high-tech timepiece will be one of the catalysts that drives Apple to a $1 trillion market cap company.
"Wearable tech is just getting started and growing at 75% a year - the Apple Watch will send that number into overdrive," Robinson said in April.
Robinson is particularly enthusiastic about Apple Watch's impact on the healthcare industry. The watch's health sensor capabilities hook up with Apple's HealthKit and ResearchKit open-source software frameworks and deliver data to physicians and medical researchers.
"It all makes a compelling case for why Apple will become the first U.S. firm with a $1 trillion market cap," Robinson said.
Money Morning Chief Investment Strategist Keith Fitz-Gerald is also an Apple stock fan. He forecasts the Apple stock price will hit $200 within two years.
"Apple has a huge addressable market that's not yet been tapped and not yet been recognized by the broader stock market," Fitzgerald said in late April. "That's what investors ought to be keying in on."
At $127.17, Apple shares are up 15.18% year to date.
Here's another top Nasdaq stock to buy now, a biotech that's a blockbuster in the making...