While the investing world is focused on Greece, events unfolding right now in Africa offer another important cautionary tale.
Thanks to reckless political and economic mismanagement, Zimbabwe holds clues to the future of other nations - like ours.
Granted, this failed state's policies have been more egregious than those perpetrated by the U.S. government against its people. Nonetheless, some of the outcomes could be similar. And I'm going to tell you one way to protect yourself.
Zimbabweans have been robbed by inflation for years and right now are now being offered compensation that's no better than an insult.
It's a frightening scenario. And those who think "it can't happen here" need only think back to the massive losses caused by runaway inflation during the Oil Shock days of the 1970s.
But preparing for it is easier than you'd think.
No One Wants to Be a "Quadrillionaire" like This
Five U.S. dollars in exchange for 175 quadrillion Zimbabwe dollars.
Under the country's demonetization program between June 15 and September 30, that's exactly what's being offered to bank account holders.
Use of the country's currency was abandoned in 2009 following inflation that eventually exploded to an incomprehensible 500 billion percent.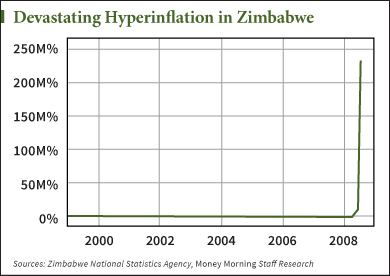 Zimbabwe is an example of how a wonderfully advanced and economically sound country (sound familiar?) can go awry.
After a bloody, 15-year civil war between the breakaway Rhodesian regime and nationalist guerillas, Zimbabwe gained its independence from Britain in 1980.
At the time, the Zimbabwe dollar was worth considerably more than the U.S. dollar. What's more, at independence, Zimbabwe was the breadbasket of Africa. It proudly boasted one of the most advanced and diverse economies on the continent.
It wouldn't stay that way for long...
By the early 1990s, Zimbabwe's euphemistically named "Economic Structural Adjustment Program," formulated in part by the "ever-so-helpful" International Monetary Fund and World Bank, weighed badly on the economy.
Making matters worse were President and Prime Minister Robert Mugabe's "land reforms," which abandoned the "willing buyer, willing seller" paradigm laid out in Zimbabwe's founding document, the Lancaster House Agreement, and saw highly productive commercial farms expropriated - often violently - and in many cases given to Mugabe's political flunkies.
Mugabe instituted price controls and printed endless amounts of cash, saying, "Where money for projects has not been found, we will print it."
Those words could've served as Zimbabwe's epitaph - or the sub rosa motto of the U.S. Federal Reserve in the years since the 2008 Financial Crisis.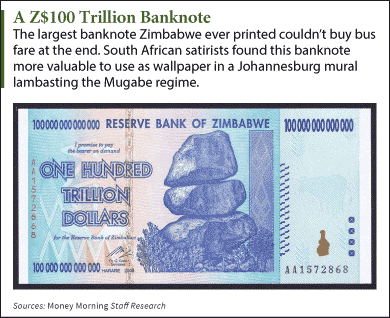 Hyperinflation brought Zimbabwe ridiculous banknotes denominated up to Z$100 trillion dollars as prices eventually doubled every few hours.
But the effects were nothing to laugh at.
Those same price controls and hyperinflation led to severe shortages for a number of staples, including meat, milk, sadza (cornmeal), and gasoline.
Unemployment eventually hit 80%. Starvation and disease stalked the land. Life expectancy plunged to 44 for men and 43 for women - among the lowest in the world. Infant mortality more than doubled by 2004, topping 12%.
And sadly, Zimbabwe is not some rare, isolated case.  Just look at Venezuela...
Join the conversation. Click here to jump to comments…
About the Author
Peter Krauth is the Resource Specialist for Money Map Press and has contributed some of the most popular and highly regarded investing articles on Money Morning. Peter is headquartered in resource-rich Canada, but he travels around the world to dig up the very best profit opportunity, whether it's in gold, silver, oil, coal, or even potash.