With the volatile Greek debt crisis raising concerns over the stability of the global financial system, finding the safest currencies to invest in has taken on a new sense of urgency.
As a type of safe-haven investment, the safest currencies are a place where you want to have at least some money when markets are unraveling and mainstay currencies like the euro are falling.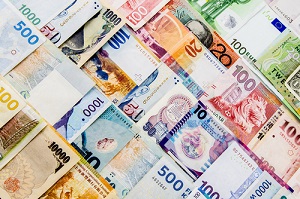 But how can an investor know which are the safest currencies?
And since the financial crisis of 2008, many central banks have gone to great lengths to devalue their currencies in an attempt to stimulate their economies. These "currency wars" have undermined the value of many of the world's major currencies.
The safest currencies tend to reside in stable nations with strong economies. The central bank of a nation with a safe currency should have a strong balance sheet, with more assets than liabilities.
The safest currencies also stand out whenever there is financial turmoil in the world. They're the ones that rise in value while less reliable currencies fall.
That sounds pretty clear, but there are anomalies.
The most obvious is the U.S. dollar, which many consider a safe-haven currency. Sure enough, the dollar tends to rise when there's trouble in the world. And the U.S. economy, the world's largest, is also among the most stable.
But the U.S. Federal Reserve, the central bank of the United States, raises questions about just how safe the dollar is in the long run. After several rounds of quantitative easing, the Fed has more than $4 trillion in U.S. Treasury debt and mortgage-backed securities on its balance sheet.
And of course, the U.S. government has a debt of $18.3 trillion. So while the U.S. dollar is better off than most other currencies, it's not necessarily the safest currency.
A true safe-haven currency should not have any of these vulnerabilities.
And it so happens that there are several to choose from, each with its own advantages…